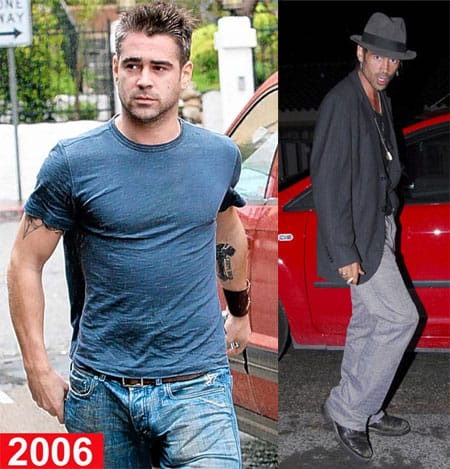 The UK tab Daily Mail recently spotted a man they claim is Colin Farrell looking like a ghost of his former self:
"The emaciated 32-year-old was snapped during a night out in Spain at the weekend. It was impossible to miss his hollow cheeks, sunken chest and stick-thin legs as he puffed away on a cigarette. There was speculation that Farrell had shed weight because of the demands of the film he is currently shooting in the southern Spanish city of Alicante. He is starring alongside Spanish actress Paz Vega and British film veteran Christopher Lee in a thriller entitled Triage. It tells the story of a war photographer who loses his best friend during a harrowing assignment in war-torn Bosnia during the early 1990s."
Other recent shots show him looking thin but with some sort of belly.
Let's hope it's all for the movie role.
previously
Colin Farrell to Serve as Best Man at Gay Bro's Civil Partnership [tr]
Colin Farrell is one of New York's Finest [tr]
Colin Farrell Caught with His Pants Down [tr]