Jim McGreevey is in a world of debt, according to testimony in the divorce trial yesterday.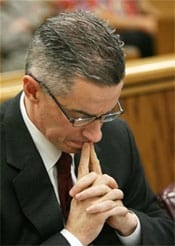 The NY Post reports: "Former New Jersey Gov. Jim McGreevey yesterday said he owes a quarter-million dollars to his boyfriend, but wants to pay child support for the daughter he has with his estranged wife, as well as for his first child. The nation's first openly gay governor denied, however, that he is financially dependent on boyfriend Mark O'Donnell. 'I want to pay child support. I want to fulfill my obligations,' McGreevey told a state judge during his third day of testimony in his divorce trial. 'Unfortunately, I have had to bankrupt myself to pay legal fees upon legal fees.' McGreevey said O'Donnell has lent him much of the legal costs, as well as the $3,000 that McGreevey is charged monthly for living in O'Donnell's Plainfield mansion."
The former New Jersey governor received a job offer from a talk radio station after testimony in the divorce case described him as "radioactive" in terms of employment following his "I am a gay American" speech.
New Jersey 101.5 FM offered him his own show, saying, "Gov. McGreevey has claimed that he is 'unemployable' and the management of New Jersey 101.5 simply does not believe this to be true."
McGreevey replied: "Thanks for the gracious offer, but I don't want to destroy your image."