Taking one step further a February court ruling issued by a New York Appellate Court in Rochester that said the state must recognize a same-sex marriage performed in Canada and provide health benefits to a woman's same-sex partner, Governor David Paterson on May 14 issued an order to state agencies that same-sex marriages performed in MA, CA, Canada, or anywhere else they are legal, must be recognized in New York state on equal legal terms as heterosexual marriages.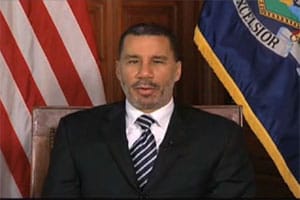 The NY Times: "The revisions are most likely to involve as many as 1,300 statutes and regulations in New York governing everything from joint filing of income tax returns to transferring fishing licenses between spouses. In a videotaped message given to gay community leaders at a dinner on May 17, Mr. Paterson described the move as 'a strong step toward marriage equality.' And people on both sides of the issue said it moved the state closer to fully legalizing same-sex unions in this state."
Paterson's move brings New York one step closer to legalizing same-sex marriage itself. A measure put forth by Eliot Spitzer last year that would have done so was passed by the assembly but blocked by the Republican led senate.
In related news, California announced that it will begin marrying same-sex couples in the state on June 17.
Some of you may remember the funny and eloquent speech he gave at the National Gay and Lesbian Task Force Leadership Awards dinner on April 7 on the subject.
I've posted it again, AFTER THE JUMP…