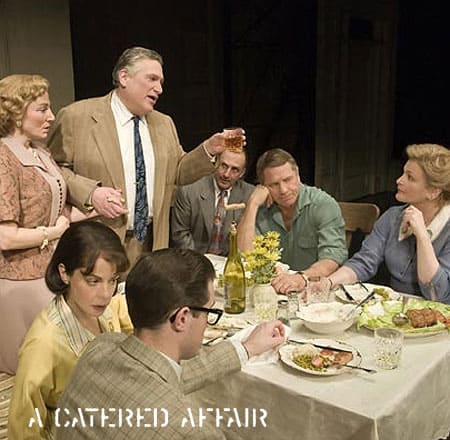 Kevin Sessums last reviewed South Pacific, Macbeth, and From Up Here for Towleroad. You can also catch up with Kevin online at his own blog at MississippiSissy.com.
I have been remiss in writing my reviews lately because of other assignments. I did a cover story on Sarah Jessica Parker a couple of weeks back for Parade magazine, have a Robert De Niro story in the current issue of Travel+Leisure and an upcoming cover story on Mary-Kate Olsen for Elle. But I'll try to catch up with this post by focusing on five shows I've recently seen.
***THE NEW CENTURY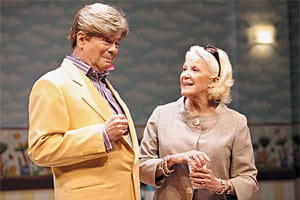 I went back to see South Pacific last week at the Vivian Beaumont at Lincoln Center because I'm doing a story on its leading lady, Kelli O'Hara, for the June 22nd edition of Parade. While picking up my ticket I ran into Kate Clinton, the lesbian comic who combines an acerbic wit with her innate kindheartedness in her stand-up act and packs 'em in all summer up in our shared Shangri-La of Provincetown. I thought maybe Kate was going to ogle O'Hara along with me for the next three hours but she told me she needed some laughs so was about to catch playwright Paul Rudnick's latest, The New Century, a collection of interrelated one-acts, downstairs from South Pacific at Lincoln Center's Mitzi Newhouse Theater. I saw her again at intermission and she was raving about the plays.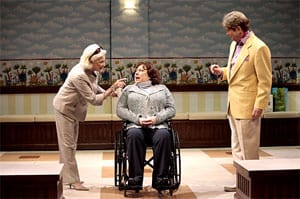 Rudnick is an old friend of mine as well so take my own rave with a grain-of-salt if you wish, but you'll find yourself laughing every 15 or 30 seconds as he riffs on everything from gay cable access shows in Florida to the love of crafts to how the M in S&M might just stand for Maternal Love. A silver-maned Linda Lavin, who won the Drama Desk award for Best Supporting Actress for her portrayal of the mother of the sex slave, is outrageous and heartbreaking. Also heartbreaking, but more sweetly so, is Jayne Houdyshell, the midwesterner who tells us of her love of crafts while, yes, craftily leading us into a story of the AIDS quilt and her son's death from the disease. Peter Bartlett finds new depths in the stereotype of the effete former New Yorker with the Palm Beach public access show. And Mike Doyle — who splendidly continues this theatre season's motif of male nudity — is Bartlett's young charge who channels his own brand of sweetness as expertly as he does his accommodating form of sexuality. Rudnick is in — ahem — top form himself.
T T T (out of 4 possible T's)
The New Century, Lincoln Center Theater- Mitzi E. Newhouse, 150 West 65th Street, New York. Ticket information here.
***LES LIAISONS DANGEREUSES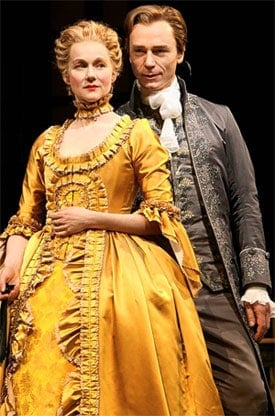 There are two revivals currently running on Broadway at the moment. I was quite disappointed in one of them. But bowled over by the other. First the bad news. It pains me to give Laura Linney, one of my favorite actresses, a negative review but she seems completely lost as La Marquise de Merteuil in the revival of Les Liaisons Dangereuses, British playwright Christopher Hampton's adaptation of the epistolary novel by Choderlos de Laclos about sexual subterfuge in 18th Century France. I blame Linney less, however, than her director, Rufus Norris, who has directed all the actors and actresses in this lamentable production as if each were in a different play. Ben Daniels — the British stage star who has been nominated for a Tony for Best Actor it would seem for his anachronistic ability to preen like Mick Jagger if the Rolling Stoner's sexual stage prowess had been rejiggered to fit the personae of Juliet Prowse opening for Liberace in Vegas — gives off no sparks as Le Viscount de Valmont in his scenes with Linney, scenes that are the very heart, cold and cauterized at the same time, of this play that is set in the rarified though randy world of the French aristocracy. Daniels' lithe dancer's body sure puts the sinew in sin, but it is a characterization more choreographed than felt. His studied stance of an 18th Century fop attempts to center everything at crotch level yet his Valmont lacks a certain ballsiness. It's all jazz hands. No jism.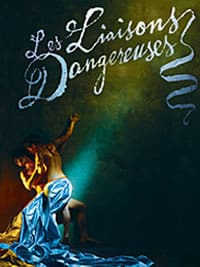 Mamie Gummer as Cecile, the childlike virgin deflowered by Valmont, has been directed to be so off-puttingly ditzy it's as if she's appearing up the avenue as one of the stewardesses in the 1960's farce, Boeing Boeing. Sian Phillips, as the resident dowager of the piece, Madame de Rosemonde, seems to have stepped out of an episode of I, Claudius. Benjamin Walker, as Le Chavealier Danceny, would have been better suited in the updated film version of the play called Cruel Intentions — though he and Daniels do doff their period britches to contribute to the season's motif. Jessica Collins as the upright La Presidente de Tourvel gives the best performance of the production and has some heart-rending moments with Daniels who, come to think of it, would be a great replacement for Peter Bartlett as Mr. Charles, the pampered human poodle from Palm Beach in Rudnick's plays.
Finally, Kristine Nielsen as Cecile's mother, Madame de Volanges, reminded me of Vivian Vance if she and Lucille Ball,in the Linney role, had done a take-off of the play in their television heyday. In fact, I kept thinking of those latter-day Viv and Lucy British television stars, Dawn French and Jennifer Saunders, who did a take-off of the play on their sketch comedy show, French and Saunders, back in 1990 and who better captured the rancid sensuality of the piece than this noisome mess of a revival at the Roundabout.
T (for the costumes and ingeniously draped sets alone)
Les Liaisons Dangereuses, American Airlines Theatre, 227 West 42 St., New York. Ticket information here.
AFTER THE JUMP…reviews of Top Girls, Cry-Baby, and A Catered Affair…
***TOP GIRLS
Now for the good news. Caryl Churchill's feminist cri-de-coeur, Top Girls, is getting a top-notch production from Manhattan Theatre Club at the Biltmore. Beautifully directed by James Macdonald, the play, set in Thatcher's England of the 1980s, is an impassioned intellectual argument against The Iron Lady's right-wing politics and yet its leftist heart is left bereft by the play's devastating end.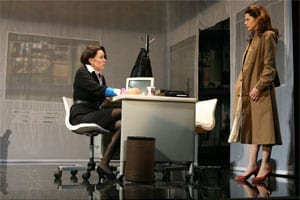 Top Girls' first act is one of the most daring any playwright has ever attempted and, in this production, it sets the bar for all that follows. The play's heroine, Marlene, gives herself a dinner party to celebrate her recent promotion to the managerial level at the employment agency where she works. The guests, however, are not her co-workers but an assortment of women from literary and political history. Pope Joan of the Ninth Century. Victorian traveller Isabella Bird. Lady Nijo, a 13th Century Buddhist nun who was also a concubine of the Japanese emporer. A woman warrior painted by Breugel who goes by the name of Gret. A Chaucerian wife: Griselda. Their overlapping dialogue and true regard for each other is thrilling and comic and cuts to the quick.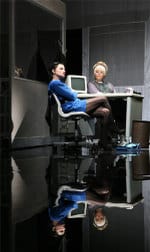 The next two acts of the play move back in time from the dinner party and delve into the life of Marlene, who is played by the extraordinary New York actress, the rightly named Elizabeth Marvel, one of the city's great and yet unsung talents. The play is one of the best acted of the theater season and I want to name all of the women who play multiple parts in the production. They are Mary Catherine Garrison, Mary Beth Hurt, Jennifer Ikeda, Ana Reeder, and especially Martha Plimpton and Marisa Tomei. I don't want to give away too many plot points. Go for yourself and discover this difficult but dynamic work of art. It is one of the best productions of the theatre season and was woefully overlooked when this year's Tony nominations were announced — though Plimpton is nominated for her stellar performance as Pope Joan as well as the emotionally stunted Angie, an adolescent who shares a tortured past with Marlene.
T T T T (out of 4 possible T's)
Top Girls, Manhattan Theatre Club, Biltmore Theatre, 261 West 47th Street, New York. Ticket information here.
***CRY-BABY
Finally, a report of two new musicals this season. The first is the adaptation of John Waters' film, Cry-Baby. It is a bit homogenized for my tastes. A little more vulgarity would have been welcome. But if you're a fan of Broadway dancing of the male variety by all means catch it. The three lead male dancers are thankfully kept front and center — especially Spencer Liff. You can't take your eyes off Liff when he's onstage and I was not surprised when he won the Fred Astaire Award as the outstanding Broadway dancer of the season last week. The work of choreographer Rob Ashford is the real star of this show.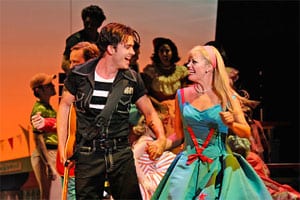 The two leads, Elizabeth Stanley as Allison and James Snyder as Cry-Baby, seem a bit long-in-the-tooth to be playing teenagers. But Harriet Harris as Allison's grandmother, Mrs. Vernon-Williams (she doesn't seem long-enough-in-the-tooth for such a role) is a campy hoot. John Waters is another Ptown buddy of mine and I kept thinking during the show — while my mind often wandered — that the show may not be vulgar enough but John's bank account sure is becoming so with this show now giving him royalties along with the longrunning Hairspray, a much better show. What's next, John? A Divine stand-in tap dancing while singing with a mouthful of dog feces in a musicalization of Pink Flamingos? Now that might be just a tad too vulgar even for my tastes.
T T (out of 4 possible T's)
Cry-Baby, Marquis Theatre, 211 West 45th Street, New York. Ticket information here.
***A CATERED AFFAIR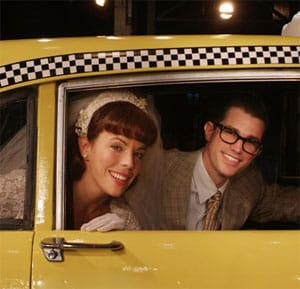 On another note completely, the other new musical is A Catered Affair which is a rather staid but classy evening in the theater. The reviews were mixed for this production so I went not expecting much but was deeply moved by the end of the intermissionless 90 minutes. Based on the Gore Vidal screenplay of a Paddy Chayefsky teleplay, the musical is about a cab driver's daughters wedding after his son has been killed in the Korean conflict in 1953. Harvey Fierstein, who also stars as the uncle of the girl, wrote the book of the musical and shucks much of his yuck-filled sense of humor to give us a touching period piece of kitchen-sink drama for which Chayefsky was so well known. The musical is a bit like ersatz Sondheim but it has its moments of singular beauty. John Doyle has directed it all with an unerring subtleness and grace.
And the cast could not be better. Along with Fierstein, they include, among others, the betrothed youngsters played by Leslie Kritzer and Matt Cavenaugh. But the real stars of the evening are the Tony nominated Faith Prince and Tom Wopat as the bride's parents. Wopat spends much of the evening underplaying his role until he erupts in his big aria of anguish toward the musical's end. It is, however, Prince's show. It is great to have her back on Broadway and she makes the most of the role of an emotionally stunted wife and mother. She delves deeply into the role and is stunningly good. It is a quiet and dignified performance. And a brilliant one. If she wins the Tony over Patti Lupone for Gypsy and Kelli O'Hara for South Pacific, I won't complain.
T T T (out of 4 possible T's)
A Catered Affair, Walter Kerr Theatre, 219 West 48th St, New York. Ticket information here.
Recent Reviews
On the Stage: South Pacific, Macbeth, From Up Here [tr]
On the Stage: Gypsy, The Four of Us, The Drunken City [tr]
On the Stage: Cat on a Hot Tin Roof, Adding Machine, Parlour Song [tr]
On the Stage: Crimes of the Heart, Sunday in the Park with George, and November [tr]
On the Stage: Come Back, Little Sheba and Next to Normal [tr]