***TOP GIRLS
Now for the good news. Caryl Churchill's feminist cri-de-coeur, Top Girls, is getting a top-notch production from Manhattan Theatre Club at the Biltmore. Beautifully directed by James Macdonald, the play, set in Thatcher's England of the 1980s, is an impassioned intellectual argument against The Iron Lady's right-wing politics and yet its leftist heart is left bereft by the play's devastating end.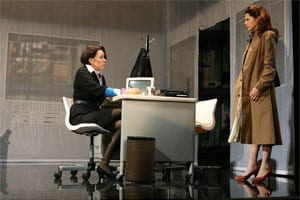 Top Girls' first act is one of the most daring any playwright has ever attempted and, in this production, it sets the bar for all that follows. The play's heroine, Marlene, gives herself a dinner party to celebrate her recent promotion to the managerial level at the employment agency where she works. The guests, however, are not her co-workers but an assortment of women from literary and political history. Pope Joan of the Ninth Century. Victorian traveller Isabella Bird. Lady Nijo, a 13th Century Buddhist nun who was also a concubine of the Japanese emporer. A woman warrior painted by Breugel who goes by the name of Gret. A Chaucerian wife: Griselda. Their overlapping dialogue and true regard for each other is thrilling and comic and cuts to the quick.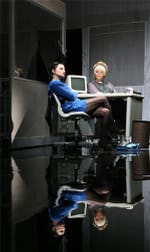 The next two acts of the play move back in time from the dinner party and delve into the life of Marlene, who is played by the extraordinary New York actress, the rightly named Elizabeth Marvel, one of the city's great and yet unsung talents. The play is one of the best acted of the theater season and I want to name all of the women who play multiple parts in the production. They are Mary Catherine Garrison, Mary Beth Hurt, Jennifer Ikeda, Ana Reeder, and especially Martha Plimpton and Marisa Tomei. I don't want to give away too many plot points. Go for yourself and discover this difficult but dynamic work of art. It is one of the best productions of the theatre season and was woefully overlooked when this year's Tony nominations were announced — though Plimpton is nominated for her stellar performance as Pope Joan as well as the emotionally stunted Angie, an adolescent who shares a tortured past with Marlene.
T T T T (out of 4 possible T's)
Top Girls, Manhattan Theatre Club, Biltmore Theatre, 261 West 47th Street, New York. Ticket information here.
***CRY-BABY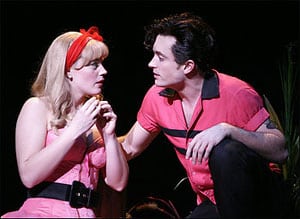 Finally, a report of two new musicals this season. The first is the adaptation of John Waters' film, Cry-Baby. It is a bit homogenized for my tastes. A little more vulgarity would have been welcome. But if you're a fan of Broadway dancing of the male variety by all means catch it. The three lead male dancers are thankfully kept front and center — especially Spencer Liff. You can't take your eyes off Liff when he's onstage and I was not surprised when he won the Fred Astaire Award as the outstanding Broadway dancer of the season last week. The work of choreographer Rob Ashford is the real star of this show.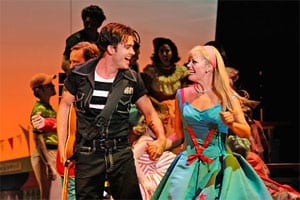 The two leads, Elizabeth Stanley as Allison and James Snyder as Cry-Baby, seem a bit long-in-the-tooth to be playing teenagers. But Harriet Harris as Allison's grandmother, Mrs. Vernon-Williams (she doesn't seem long-enough-in-the-tooth for such a role) is a campy hoot. John Waters is another Ptown buddy of mine and I kept thinking during the show — while my mind often wandered — that the show may not be vulgar enough but John's bank account sure is becoming so with this show now giving him royalties along with the longrunning Hairspray, a much better show. What's next, John? A Divine stand-in tap dancing while singing with a mouthful of dog feces in a musicalization of Pink Flamingos? Now that might be just a tad too vulgar even for my tastes.
T T (out of 4 possible T's)
Cry-Baby, Marquis Theatre, 211 West 45th Street, New York. Ticket information here.
***A CATERED AFFAIR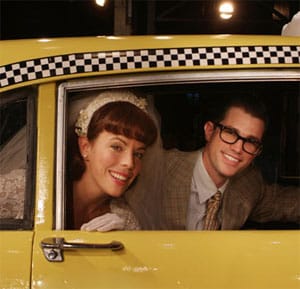 On another note completely, the other new musical is A Catered Affair which is a rather staid but classy evening in the theater. The reviews were mixed for this production so I went not expecting much but was deeply moved by the end of the intermissionless 90 minutes. Based on the Gore Vidal screenplay of a Paddy Chayefsky teleplay, the musical is about a cab driver's daughters wedding after his son has been killed in the Korean conflict in 1953. Harvey Fierstein, who also stars as the uncle of the girl, wrote the book of the musical and shucks much of his yuck-filled sense of humor to give us a touching period piece of kitchen-sink drama for which Chayefsky was so well known. The musical is a bit like ersatz Sondheim but it has its moments of singular beauty. John Doyle has directed it all with an unerring subtleness and grace.
And the cast could not be better. Along with Fierstein, they include, among others, the betrothed youngsters played by Leslie Kritzer and Matt Cavenaugh. But the real stars of the evening are the Tony nominated Faith Prince and Tom Wopat as the bride's parents. Wopat spends much of the evening underplaying his role until he erupts in his big aria of anguish toward the musical's end. It is, however, Prince's show. It is great to have her back on Broadway and she makes the most of the role of an emotionally stunted wife and mother. She delves deeply into the role and is stunningly good. It is a quiet and dignified performance. And a brilliant one. If she wins the Tony over Patti Lupone for Gypsy and Kelli O'Hara for South Pacific, I won't complain.
T T T (out of 4 possible T's)
A Catered Affair, Walter Kerr Theatre, 219 West 48th St, New York. Ticket information here.
Recent Reviews
On the Stage: South Pacific, Macbeth, From Up Here [tr]
On the Stage: Gypsy, The Four of Us, The Drunken City [tr]
On the Stage: Cat on a Hot Tin Roof, Adding Machine, Parlour Song [tr]
On the Stage: Crimes of the Heart, Sunday in the Park with George, and November [tr]
On the Stage: Come Back, Little Sheba and Next to Normal [tr]