Religious right mounting opposition to NY marriage equality: "The Rev. Duane Motley of New Yorkers for Constitutional Freedoms says the Democratic governor is circumventing the Legislature and courts and slapping New Yorkers in the face. Motley says granting government benefits to gay couples will come at a cost to the state even as Paterson calls for cuts in spending because of looming deficits. Motley says Paterson shouldn't force the state to recognize gay marriages when they remain illegal in New York."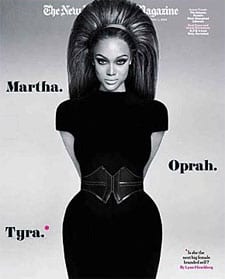 The New York Times takes on Tyra and her smiling eyes.

Britney Spears to join Grease as Sandy on Broadway?

Turkish court shuts down LGBT organization: "The court ordered the closure of the group for not eliminating words describing sexual identities of its members in its official name, Ergenc said. 'If we take out the words of lesbian, gay, bisexual and transvestites then it is not an association for them,' Ergenc said. The court found the association's name in violation of public morality."

Does David Beckham have jock itch?

Dina Matos McGreevey takes stand, talks about all the money she needs: "Matos McGreevey said she paid for her own car, insurance and clothes out of her salary as a hospital executive, estimated at $55,000 a year. She said being on the arm of a politician sometimes required three changes of clothes a day. Matos McGreevey's accountant, Kalman Barson, placed the value of their so-called gubernatorial lifestyle at $51,000 a month but acknowledged under cross-examination that he relied mostly on guesswork to derive the estimate. McGreevey's accountant puts the value of maintaining that lifestyle at a far more modest $16,000 a month."

NYPD captain accused of flashing man in the subway.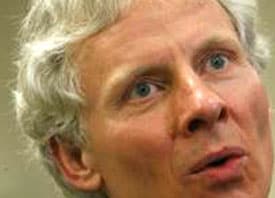 This dude supposedly has video of (real live!) 4-foot blinking alien that he'll show on Friday in Denver: "As impressive as it is, it's still one tiny portion in the context of a vast amount of peripheral evidence. It's really the final visual confirmation of what you already know to be true having seen all the other evidence…It shows an extraterrestrial's head popping up outside of a window at night, looking in the window, that's visible through an infrared camera." And, you know, it's definitely real because "an instructor at the Colorado Film School in Denver scrutinized the video 'very carefully' and determined it was authentic." Mmm hmm.

She bangs: Hillary Clinton gets endorsement from Ricky Martin.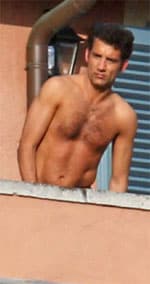 Clive Owen gets shirtless on balcony, world watches.

Stephen Colbert grillls Family Research Council Pres Tony Perkins over same-sex marriage: "Many are shocked and outraged. I get the outrage, but shocked? That California is pro-gay? I assume these are the same people who were shocked when Elton John finally came out, even though he'd been wearing fuchsia sun goggles with windshield wipers for years."

Supreme Court to hear case on Christian doctor who refused to perform artificial insemination on a lesbian.

Al Gore's The Inconvenient Truth to become an opera: "La Scala officials say the Italian composer Giorgio Battistelli has been commissioned to produce an opera on the international multiformat hit for the 2011 season at the Milan opera house. The composer is currently artistic director of the Arena in Verona." Who's going to play the CO2?

Glaceau, makers of Vitamin Water, to remove Red Bull-bashing slogan "Wings are for fairies" from its ad vehicles: "The slogan was a direct reference to a winged cartoon character in a competitive campaign, We apologize if our attempt at humor offended anyone in any way and we plan to remove this slogan from all vehicles as soon as possible."