Good riddance: South Carolina high school principal resigning because he doesn't agree with the school having a gay-straight alliance.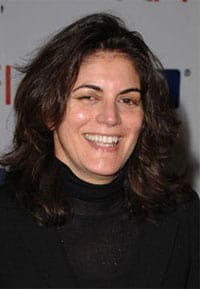 Was she the other woman who ended Jodie Foster's 14 year relationship? "Although she and Cydney remain under the same roof at the moment, the relationship has been shattered. They'll continue to raise the boys together and try to keep a loving family unit despite their breakup. The love is gone."

Oregon Court of Appeals upholds ballot initiative banning same-sex marriage in the state.

Madonna and Guy Ritchie glam it up in Cannes.

Redwood City, California man to stand trial for attacking his neighbors with a wrought iron table, fists: "Prosecutors say Santos-Coy had been drinking when he approached two neighbors of his apartment complex as they worked on their car in the building's carport. Yelling that the men — a couple in their 20s, according to prosecutors — were 'dirty nasty people' and other things not fit to print in this publication, Santos-Coy allegedly struck one of the men several times in the face. He then picked up a wrought-iron table and swung it at the victims, prosecutors said. The men managed to avoid getting hit by the heavy table, according to prosecutors…He faces up to eight years in prison for two felony counts of a hate crime and one count of assault with a hate crime purpose."

Cameron Diaz goes bald.

Scotland Yard arrests 198 across London for "domestic, homophobic and race hate crimes."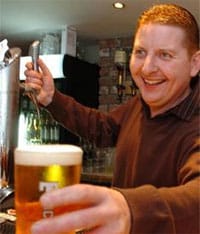 Owner of the first gay bar outside a major city in Ireland talks about the reaction from the community: "When someone comes up to one of my sons and mentions the gay bar, it's to tell them that their uncle or cousin is gay. The young people in Strabane seem to be very open-minded — there's been no hassle at all."

"Ex-Gay" Bar? UK former gay bar under inquiry for putting up banner announcing that it is "now straight". "A police inquiry is under way into a complaint that the sign, which has now been taken down, was offensive. The bar owners said it was never their intention to offend. Assistant manager Carl Lovett said: 'We admit it was not the best banner but there was never any intention to cause offence.' … The bar, which opened as a seven-days-a-week gay venue in January, decided to switch to becoming a mainstream premises after failing to attract enough customers."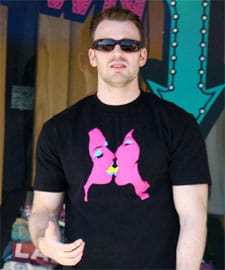 Chris Evans apparently has some lesbian fantasies.

California Republican justice Ronald George on newly-minted hero status: "Basically, it comes down to the question of when is a judge shirking his or her responsibility by not acting…The political repercussions of who I am going to please or who I am going to displease is not something I think about. I just put it out of my mind."

Canadian middle school students told they can't wear anti-homophobia t-shirts: "School principal Kim MacKenzie said the word "gay" was used inappropriately. He said the T-shirts weren't appropriate for a middle-school level and didn't comply with the school dress code. 'This is a middle school,' he said, adding no other disciplinary actions were taken. 'There were questions from Grade 5 students as to what homophobia was. That's something that many of our parents would have a concern with — the notion of how that conversation (was started) in the school,' said MacKenzie."