A two-year campaign by activists came to a successful end yesterday when the Russian Health Ministry ended a ban on blood donation by gays, according to UK Gay News: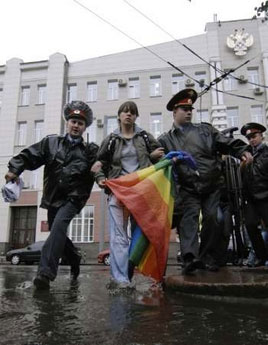 "Tatyana Golikova, the Minister of Health and Social Development signed the decree on April 16, it emerged yesterday. The decree amends the rules on blood donations which were implemented on September 14, 2001. According to the amendments, provisions for absolute ban on blood donations by people from the so called groups of high risk (homosexuals, drug addicts and prostitutes) are being repealed. Activists at GayRussia have been campaigning against the ban since April 2006 when they sent a letter to the Ministry of Health and Social Development as well as to the Russian General Prosecutor asking for the repeal of the ban because it contradicted the Russian Constitution and federal legislation. They repeated their demand a year later. The Ministry responded twice to the activists, saying that the amendments will be implemented, and that the issue is being discussed within the Ministry. A third letter was sent to the Ministry last month. Nikolai Alekseev and Nikolai Baev reminded officials that 'since May 1993 homosexual relations between consenting adults in private are not considered a crime in Russia. Since 1999 Russian psychiatry does not consider homosexuality as a mental illness as it joint international classification of mental illnesses'."
Above, an activist is arrested at a Moscow demonstration I posted about last September.