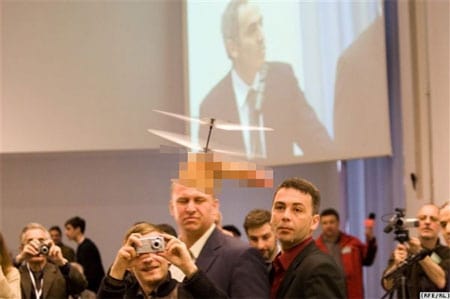 This is pretty surreal. A meeting in Moscow of the Other Russia opposition coalition on Saturday was interrupted by a propellor-operated phallus as chess champion Garry Kasparov was speaking.
According to waxy.org, "Kasparov is a leader of the Other Russia movement, a loose coalition of activists opposing Vladamir Putin and the current Russian government. Over 700 people showed up for the event in central Moscow, but Kasparov's speech was interrupted when a large phallus-shaped helicopter started buzzing around the room. The Moscow Times attributed the prank to 'a couple of pro-Kremlin Young Russia activists.'"
According to a translator on the site metafilter, this was Kasparov's reaction:
"Kasparov: 'I think we have to be thankful for the opposition's demonstration of the level of discourse we need to anticipate. Also, apparently most of their arguments are located beneath the belt.' Someone in the audience: 'Finally the political power shows its face!' Kasparov: 'Well, if that's its face…' Everyone laughs.
You can see the uncensored pic here (NSFW).
And make sure not to miss the clip, AFTER THE JUMP…
Somebody needs to get one of these going at a McCain rally.