Homeless man gets 35 years in prison for spitting on a police officer and saying he was HIV positive.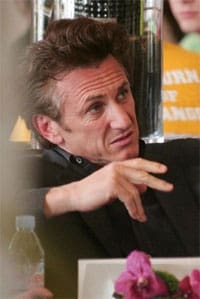 Sean Penn slams Obama's "phenomenally inhuman and unconstitutional" voting record, expresses optimism: "I don't have a candidate I'm supporting and I'm certainly interested and excited by the hope that Barack Obama is inspiring. I hope that he will understand, if he is the nominee, the degree of disillusionment that will happen if he doesn't become a greater man than he will ever be. This is the most important election, certainly in my lifetime, and maybe ever."

You'll never guess who is broke and living in a trailer with 20 parrots? Well, actually, you might.

Marriage equality bill introduced in Minnesota legislature: "The Marriage and Family Protection Act was introduced by Rep. Phyllis Kahn, DFL-Minneapolis, and Sen. John Marty, DFL-Roseville, on Friday. The bill would make marriage a gender-neutral proposition in Minnesota, allowing same-sex couples to marry. It would also protect religious institutions that have moral objections to same-sex marriage from being compelled to perform such ceremonies."

Spains's Operacion Triunfo (the equivalent to our American Idol) recently featured a hot gay kiss.

McGreevey: Dina paid for the wedding, and honeymoon.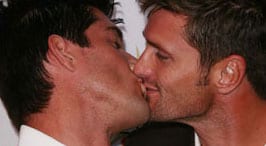 All's well in the land of Ry-chen.

Toronto Lutheran parish to defy church, risk expulsion, ordinate gay man: "Lionel Ketola will be ordained tomorrow night by a non-traditional American Lutheran group that ordains gay candidates. Their ordinations are not officially recognized in Canada or the United States. But despite that, he will then be hired by Holy Cross Lutheran Church in Newmarket, Ont., as an associate pastor, where he has interned for the past two years. Members of Holy Cross will also take part in the ordination ceremony."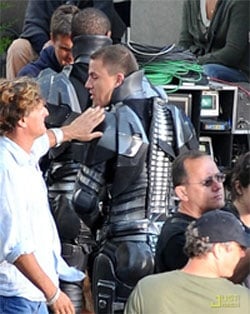 Channing Tatum's GI Joe gear looks less than comfortable.

Police in Brighton, UK appeal for witnesses following attack on gay man by gang of youths: "About seven boys verbally abused the man, spat on him, forced him to the ground and kicked him in George Street. One member of the group was wearing a hooded top and another had white three quarter length tracksuit bottoms with a navy stripe, police said."

Gay pride group to march on county offices in Nova Scotia: "The group will raise the gay pride flag during a 7 p.m. ceremony at the town's Water Street gazebo to mark the International Day Against Homophobia. The gazebo is a couple of blocks from the Municipality of Pictou County's administrative building, where the gay pride flag will not fly. A February resolution banned all except government and First Nation flags from the county's official flagpole. The municipality said the controversial policy doesn't target gay pride groups specifically, but allows equal treatment of all organizations that want the county to fly their flags."

Joe Lieberman defends pastor John Hagee: "He represents a lot of people in this country, particularly Christians who care about the state of Israel."

The legacy of Illinois' first openly gay legislator, Larry McKeon, who died this week: "Chicago had never held a meeting like this, for gays and lesbians interested in becoming cops, and for an hour and a half, bleached by ceiling lights, they asked questions. Two officers, among the few on the force willing to say they were gay, answered. Was the department planning to form a special gay unit? No. Did the department intend to set gay quotas? No. Was there a space on the application for sexual orientation? No. Leaning against a wall, watching, was the man who'd organized the meeting, Larry McKeon."