Bush awards former Joint Chiefs of Staff Chair and homophobe Peter Pace the Congressional Medal of Freedom.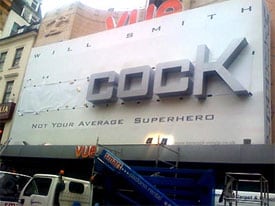 Will Smith superhero movie re-branded by construction worker in London's Leicester Square.

Sick: Brutal trans-bashing by Memphis police officer caught on video. "The video, recorded February 12th, shows Duanna Johnson in the booking area at the Shelby County Criminal Justice Center after an arrest for prostitution. The tape clearly shows a Memphis police officer walk over to Johnson – a transsexual – and hit her in the face several times. 'Actually he was trying to get me to come over to where he was, and I responded by telling him that wasn't my name – that my mother didn't name me a 'faggot' or a 'he-she,' so he got upset and approached me. And that's when it started.'"

Uh oh, there's a new Spears in town.

Gaytona.com: where gay and Nascar meet.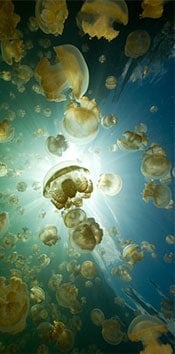 Experts: Mass proliferation of jellyfish a sure sign that environment is out of whack.

Oregon opponents of gay rights laws abandon efforts to repeal them: "Organizers conceded Monday that their initiatives to repeal two Oregon gay rights laws will not make the November ballot. The fact that the initiatives are stalled offers more evidence that opponents are losing support, say gay rights activists, who were also celebrating the legalization of same-sex marriages in California on Monday."

Provocation: Right-wing group asks Israeli Supreme Court to ban Gay Pride in Jerusalem: "In a petition to the court, the small National Jewish Front called the event 'a provocation,' while the municipality filed a brief saying it too objected to the parade, scheduled to be held on June 26. 'We are against this parade which harms social relations,' city spokesman Gidi Schemerling told AFP."

Members of the clergy in Albany today rallied to protest Governor David Paterson's decision to recognize same-sex marriages preformed out of state.

An interview with rainbow flag creator Gilbert Baker: "I love going to cities around the world and seeing the rainbow flag, knowing that it's a safe place where I can be myself…In 1978, when I thought of creating a flag for the gay movement there was no other international symbol for us than the pink triangle, which the Nazis used to identify homosexuals in concentration camps. Even though the pink triangle was and still is a powerful symbol, it was very much forced upon us. I almost instantly thought of using the rainbow. To me, it was the only thing that could really express our diversity, beauty and our joy. I was astounded nobody had thought of making a rainbow flag before because it seemed like such an obvious symbol for us."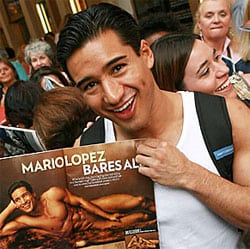 Mario Lopez is impressed with himself.

Recommend picks from the California Tourism Commission for places to have your wedding or honeymoon.

Mickey Rourke spent his Father's Day with a dude in a thong.

Hockey jock doesn't speak, but carries a big stick (warning: site NSFW)

District Court of Moscow dismisses complaint by activists that gay pride ban was unlawful: " During court hearing, Nikolai Alekseev, principle the organiser of Moscow Pride, said that the Russian legislation does not give the authorities the right to ban any public event if it does not contradict the Constitution. According to the law, he told the court, authorities are obliged to offer an alternative place or time for the conduct of such an event if it is not possible to stage it in the place where planned."