Brief altercations reported at Tel Aviv gay pride: "The demonstrators held signs which read: 'Animals! You have nothing to be proud of, take your medication.'" Thousands attend…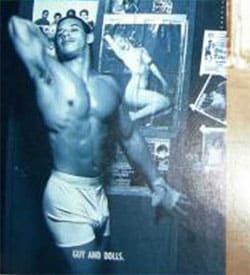 Vin Diesel is a daddy — literally.

McGreevey lawyer during closing arguments: "She gets nothing!"

Detroit Red Wings have a friend, and his name is Stanley.

Following her Sex and the City gay sluts rant, Lauren Hutton has made another bizarre appearance, this time at Bravo's A-List awards.

Archbishop of Uganda demands that "pro-gay bishops must apologise and renounce their support for sexual perversion" in order to mend rift in Church: "The Archbishop of Uganda, Henry Luke Orombi, made the appeal on Wednesday, while addressing journalists at the provincial headquarters in Namirembe, Kampala. He was announcing the departure of a team of Church of Uganda bishops to the Anglican Communion scheduled for June 22-29 in Jerusalem. According to Orombi, conservative Christians worldwide, who believe in the Bible, will meet in Jerusalem to 'prepare for an Anglican future in which the gospel is uncompromised and a Christ-centred mission is a top priority.'"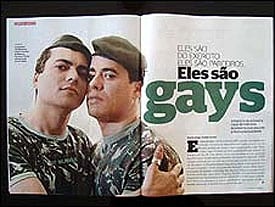 Gay Brazilian soldier who came out on national TV arrested after taping show for desertion from the army. AWOL or victimized?

Gay activist slams Norther Irish politico's statement that gays and lesbians can be "turned around". Said the MP: "I have a very lovely psychiatrist who works with me in my offices and his Christian background is that he tries to help homosexuals – trying to turn away from what they are engaged in. I'm happy to put any homosexual in touch with this gentleman and I have met people who have turned around and become heterosexuals."

Meet the Top 20 contestants on So You Think You Can Dance.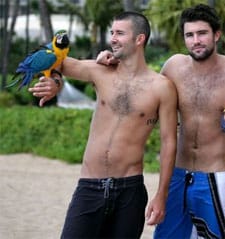 Brody Jenner kicks back in Hawaii.

Isaac Mizrahi makes hair pomade at home.

Brazil's first gay cruise!

This weekend's Love Won Out "ex-gay" conference in Orlando to be protested by gay activists: "Protesters, organized by Parents, Families & Friends of Lesbians and Gays, will meet outside First Presbyterian Church in Orlando, where organizers say the conference is expected to draw about 500 participants. The conference coincides with Gay Days, which annually attracts thousands of gays to Orlando and Disney World."

Videos of McCain's awful speech being removed from YouTube?