Brandon McInerney's parents (pictured) and grandfather were present yesterday at Ventura Courthouse where the arraignment of the 14-year-old for shooting and killing classmate Lawrence King was scheduled, and postponed for a second time. McInerney's attorney is still working to have his client tried as a juvenile, and not an adult: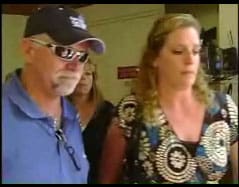 "Public defender Willy Quest said if his client, McInerney, would be tried as an adult, it would be a violation of the boy's Eighth Amendment guarantee against 'cruel and unusual' punishment. 'If he's convicted of the charges, he could be sent to 51 years to life in prison,' Quest said…Quest said that some of the case might revolve around his client's response to King's behavior, which he said was the response of an immature teen. McInerney's behavior was that of a typical 14-year-old, immature and impulsive, Quest said."
In April, a coalition of gay groups including ambda Legal, the National Center for Lesbian Rights and the Transgender Law Center, the American Civil Liberties Union of Southern California, Equality California, Gay Straight Alliance Network, Los Angeles Gay and Lesbian Center, and the National Gay and Lesbian Task Force, released a statement calling for McInerney to be tried as a juvenile.