It's official. California's Supreme Court has rejected a bid by gay-marriage foes to stay the same-sex marriage ruling until after November's elections. Gay marriages begin June 17!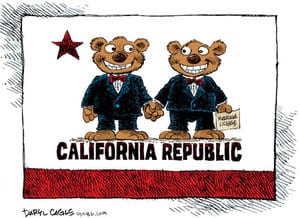 "Moving swiftly to remove legal uncertainty, the court turned a way a request from gay marriage foes to stay the ruling until after the November election, when voters will consider a ballot measure that would change the state Constitution to again outlaw same-sex weddings. The secretary of state earlier this week qualified the initiative for the November ballot. The justices were divided 4-3 on whether to rehear their earlier decision, the same split that unfolded when the gay marriage case was decided in May. Conservative organizations, joined by 10 other states, asked the court to reopen the case, a move opposed by civil rights groups, San Francisco city officials and Attorney General Jerry Brown."
This is great news. Basically, if California voters end up approving the ban they'll have to nullify hundreds if not thousands of marriages that have been valid for months. Somehow I don't think Californians will have it.
California high court clears way for same-sex marriages starting June 17 [mercury news]