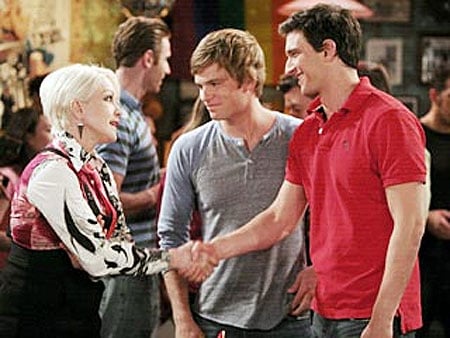 Cyndi Lauper taped a special gay pride episode of As the World Turns on May 27 which is set to air on July 3rd. It's a first-of-its-kind moment for daytime TV, and it's hard to argue for a better advocate than Lauper to come swinging through Oakdale.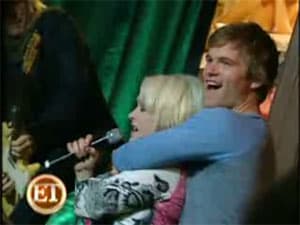 Lauper told Entertainment Weekly: "'I think they're young, these guys, and they're sweet. They're taking their time and struggling with the heart issues, which is even more endearing than just being like the straight couples, half-naked and having sex all over the place. The best way to people is through the heart, and that's why I think it's kind of interesting the way they've done it. It's about love."
I've transcribed her brief interview for Entertainment Tonight and clipped it, AFTER THE JUMP: "I'm here to do an intervention for true love. And uh, I think true love should always win out. I think it's actually a monumental show that I'm on. And I think CBS should be commended. Noah and Luke are in love, so I'm just gonna say 'Hey, you gotta be there for each other because you walk away from your chance sometimes. you don't get that back.' As the World Turns is really doing something monumental. It's including a community of people who are our extended families. You know, it's our uncles, our cousins, our sisters, our brothers. It's about opening your heart and understanding that people are different and perhaps your kids aren't always going to be exactly who you want. They're always oppoiste. It's always your Achilles heel. But you love em. And see, that's the heart. And these two, they're in love with each other, and that's how they've nurtured each other, and I'm proud to be included, you know. I think it's a great thing."
Watch it, AFTER THE JUMP…
And if you haven't heard Lauper's new single "Into the Night Life" yet, it's her best in years and deserving of plenty a play on the dance floor this summer.