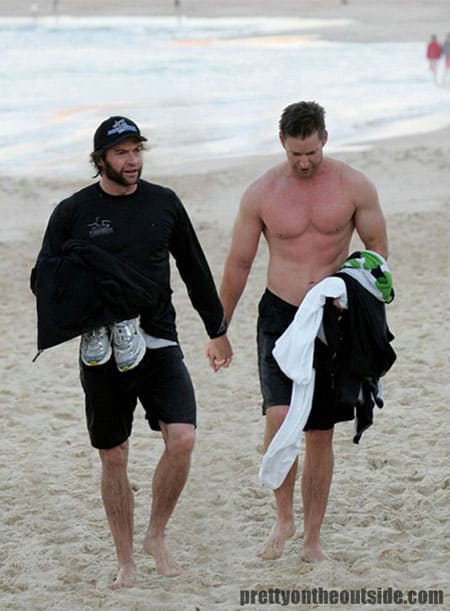 Hugh Jackman was spotted having a swim at Bondi beach in Australia with his trainer over the weekend. Though the shot above may look like Jackman is showing his public support for California's same-sex marriage decision, it's actually just a bit of greeting card-worthy PhotoShop magic crafted by our friend David Gilmore at Pretty on the Outside.
Below you'll find one of the actual shots, which is about an arm's length away from the fantasy pictured above, so eat it up.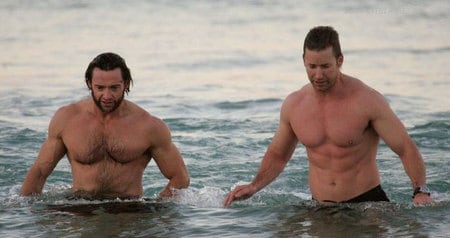 More of Gilmore's fantasies at POTO, and a selection of the Jackman/Trainer shots at A Socialite's Life.
And AFTER THE JUMP, a bonus shot of Wolverine in the surf.
G'day Mate.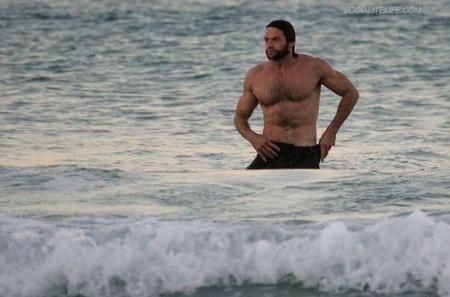 Previously
Hugh Jackman Back in Sideburns for Wolverine [tr]
Hugh Jackman: You Can Leave Your Hat On…or Not [tr]
Hugh Jackman Entertains at the Beach [tr]