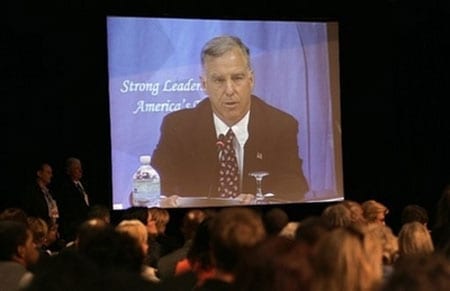 The DNC Rules and Bylaws committee voted to resolve the Michigan and Florida delegate situation over the weekend.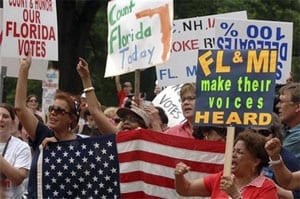 Said Howard Dean at the opening of the meeting: "This is not about Barack Obama, this is not about Hillary Clinton. "This is about our country. This is about restoring America to its greatness. There have been very tough disagreements and ugly moments. Emotions have run very high. There have been blatantly sexist comments, particularly by some members of the media. And blatantly racist remarks. And we know that those comments have no place in our society… We need to come together."
Talking Points Memo reports: "In a huge blow to Hillary's hopes, such as they are, the DNC Rules and Bylaws Committee has now voted in favor of a compromise measure for Michigan, giving 69 pledged delegates to Hillary Clinton and 59 to Barack Obama at a half-vote each. This effectively ends Hillary's bid to seat the Michigan and Florida delegations in full — which she was hoping for in a last-ditch effort to close the delegate count and, more importantly for her campaign's moral arguments, to try to narrow Obama's unofficial popular vote lead. Still, Hillary's chief delegate counter, Harold Ickes, seemed to signal that there's still a possibility that she might fight on. In a harsh tone of voice, Ickes told the committee that Hillary personally informed him that she reserves the right to take the dispute over Michigan to the Credentials Committee in Denver, on the grounds that the committee had no right to transfer 'Uncommitted' votes over to Obama."
Ickes remarks at the DNC meeting, above right. Here's the Clinton campaign statement.
The decision upset many Clinton supporters, including this woman, who was thrown out of the rules committee meeting and whose ugly rant was widely published across the blogosphere this weekend:
AmericaBlog reports that protests over the DNC meeting have been overblown by the media.
Meanwhile, Clinton won an overwhelming victory in Puerto Rico over the weekend.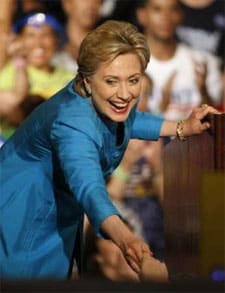 The NYT: "Senator Hillary Rodham Clinton won another overwhelming victory over Senator Barack Obama on Sunday — this time in Puerto Rico — even as many Democrats, including some of her supporters, suggested it would be best if she dropped her threat to battle on past the end of the primary voting on Tuesday. 'There's nobody taking Hillary's side but Hillary people,' said Donald Fowler of South Carolina, a former national party chairman and one of Mrs. Clinton's most prominent supporters, referring to her campaign's suggestions that she might seek to challenge the way the party resolved the fight this weekend over seating the Michigan and Florida delegations. 'It's too bad. She deserves better than this.' In a telephone interview Sunday from San Juan, P.R., Mrs. Clinton still raised the possibility that she would challenge the party's decision on seating those delegates. 'Well, we are going to look at that and make a determination at some point,' she said. 'But I haven't made any decision at this time.'"
Despite the Clinton victory, Barack Obama gained 17 delegates in the Puerto Rico vote, leaving him just 47 short of the 2,118 required for the nomination.