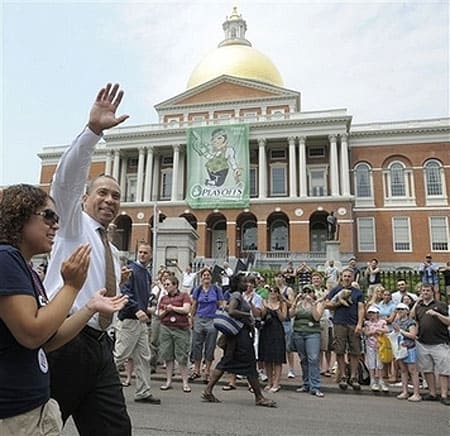 Although Father's Day was technically the following day, it took on meaning Saturday as Deval Patrick and his daughter Katherine marched in Boston's Gay Pride parade just two days after Katherine came out of the closet publicly in an interview with New England's Bay Windows newspaper.
The AP reports: "On Saturday, the Patrick family was greeted with boisterous cheers and applause as they marched to the end of the route in City Hall Plaza. 'It's been a nice day,' Patrick said after the parade. The Patricks marched with friends in front of a group from the AIDS Action Committee and behind a float carrying male dancers clad in bikini bottoms. Thousands lined the parade route, which began in the South End and included all manner of gay pride groups, from car clubs, to softball teams, to union workers. Several spectators expressed their support for Katherine Patrick. 'I think she's represents a generation of us out there, and to see her parents supporting her in such a public way, I think that allows all of our parents the permission to do the same,' said Hannah Karpman, 29, of Boston."
Last year, Patrick became the first Massachusetts governor to march in a Gay Pride parade. He marched alongside Katherine in 2007 as well, though she wasn't out.
A brief clip of the father-daughter pair in the parade, AFTER THE JUMP…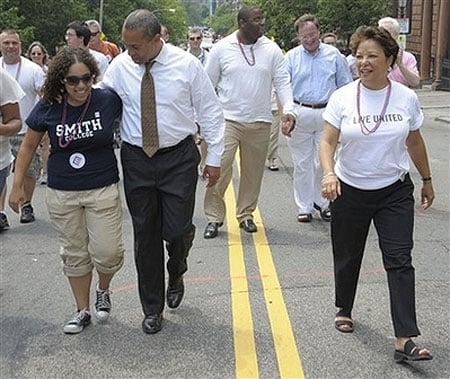 Previously
Daughter of Massachusetts Governor Deval Patrick: I'm Gay [tr]
Massachusetts Governor Deval Patrick First to March with Pride [tr]