At least three people have been detained or arrested and charged with lewd conduct on Fire Island for activity taking place between Cherry Grove and Fire Island in the area familiarly known as the "meat rack" since June 13.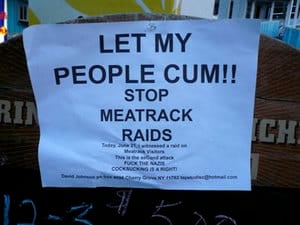 Radar Online reports: "Few details are known—the National Park Service has not yet confirmed the arrests or said why they have now begun patrolling the land. On the weekend of Friday, June 13, at least one gay man was detained in the small wooded area popularly called The Meat Rack, which is both a cruising ground and also a thoroughfare between the two gay towns of Fire Island, Cherry Grove and The Pines. The following weekend, at least two were arrested. In the first event, an eyewitness said he saw five or six rangers with a gay man (described as somewhat overweight and clad in khakis and a polo shirt) on his knees and in handcuffs. The men were searched after their arrests. In the other event, a man was stopped and 'panicked and tried to get rid of the drugs,' according to a second-hand report by one Cherry Grove resident; that man was either charged with possession or detained further and charged. The man arrested with him was given a citation for $125 for engaging in lewdness, that resident said."
According to Choire Sicha at Radar, the arrests are the first of their kind on Fire Island.
Last week I reported that the National Park Service had announced it would be cracking down on public sex in the dunes outside Provincetown, Massachusetts, on Cape Cod.