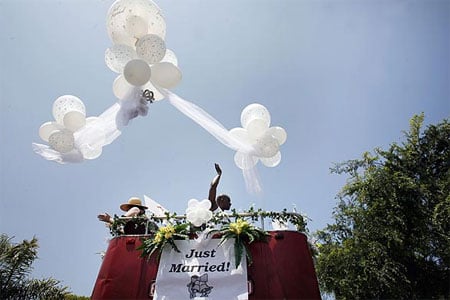 With something to celebrate, Gay Pride was changed up a bit in Los Angeles this weekend (L.A. Times gallery and here's one from Bilerico). In Athens, Greece, the country's first newlyweds rode at the head of the parade.
Pride events were also held over the weekend in Salt Lake City, where crowds were larger this year, and in Birmingham, Alabama despite mayor Larry Langford taking an active stance against it. In Buffalo, New York, they came out in record numbers.
In Warsaw, Poland, 2,000 people paraded despite threats from extremist groups. Rome and Milan saw tens of thousands out in force at their respective events.