Joan Rivers tells the Pittsburgh Post-Gazette that she and Barbra Streisand played lovers in a 1959 theatre production of the off-off Broadway play "Driftwood" because the director couldn't find a leading man: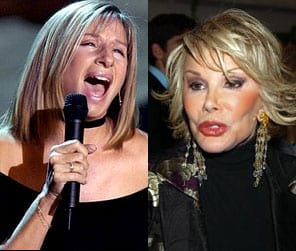 "We played lesbian lovers. That was the first thing Barbra did; soon after that she really got going. Let me tell you, Barbra is a great kisser, but no tongue….I don't really see her anymore. I got an invitation from Barbra asking me to please come see her show when she was in New York. I thought, 'This is a joke,' but it wasn't. I wrote her back, 'I can't come because I'm working that night,' which was true. Barbra is so involved in her own life. When I do see her, she always asks, 'So, are you still in the business?' And she's not making a joke. She has no clue what anyone else is doing."
Rivers also talked about her experiences with Andy Warhol: "Bad wigs, oily skin. He looked like an albino. Not a pretty man. Andy wanted to do me, but Cher said, 'Don't. He charges $40,000 a portrait, and he'll always tell you the first one isn't good.' I wasn't going to make an $80,000 commitment. I said, 'Andy, if you want to do it for free, great,' but he picked Elizabeth Taylor instead."
And Robert Mapplethorpe: "He wouldn't agree to retouch the photos, so I said no."
Rivers is playing a concert in Pittsburgh over the weekend sponsored by the Lambda Foundation.