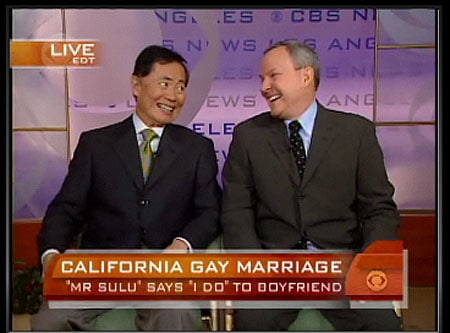 Star Trek actor George Takei and his partner Brad Altman talked to Julie Chen on The Early Show yesterday about their proposal and upcoming marriage, which they have planned for September in order to go through the "delicious anguish" of planning.
Said Altman: "It's not about a political statement, it's about legally in California — the California Supreme Court says everybody is equally entitled to marriage. This is the first time — George and I have been together more than 21 years in good times and bad times through sickness and health and for the first time we can legally marry each other and I'm just thrilled."
Added Takei: "To us it's about love. But it's the climate we are entering that makes it political. For us, it's love and we get to make it a marriage."
LAst week Takei made headlines when it was revealed that former Star Trek cast members would make up the wedding party, but that William Shatner had been snubbed.
Watch it, AFTER THE JUMP…
Plus, our ongoing coverage…
Outside City Hall [tr]
Inside City Hall: Del and Phyllis Cut the Cake [tr]
Same-Sex Marriage Legal in California [tr]
The First Same-Sex Couple to Marry in L.A. [tr]
5:01 PM [tr]
Previously
Crew of Enterprise, Aside from Kirk, to Helm Dr. Sulu's Wedding [tr]