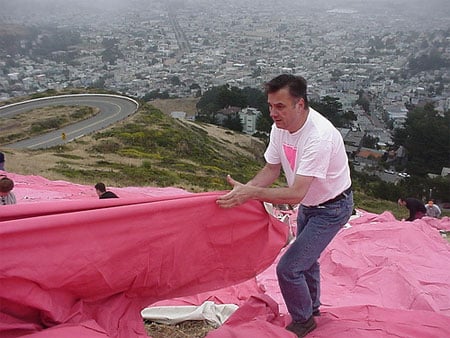 A pink triangle to be installed at the top of San Francisco's Twin Peaks (image via flickr user Madein1953) will be so large this year it will be visible from 20 miles away.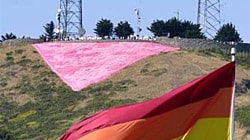 The installation,meant to commemorate gay victims of the Holocaust, has been in place every Pride weekend since 1995.
The installation begins this Saturday morning and volunteers are requested. San Francisco Mayor Gavin Newsom will be speaking at the event as well as Assemblyman Mark Leno, Senator Carole Migden, Supervisor Tom Ammiano, Supervisor Bevan Dufty, Treasurer José Cisneros, and German Consul General Rolf Schütte.
The Pink Triangle [official site]
Related
Berlin's Monument to Gay Holocaust Victims: The Kiss Revealed [tr]