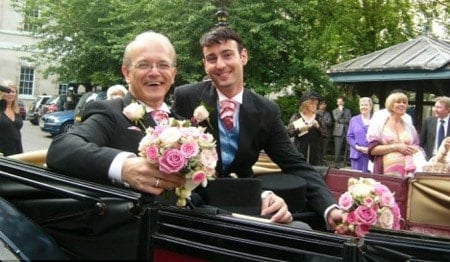 Last week I posted about a wedding conducted with traditional liturgy for two gay priests, David Lord and Peter Cowell, by Reverend Martin Dudley, which has caused tremendous controversy within the Anglican church. Now, photos of the couple and their ceremony have emerged, via the Daily Mail: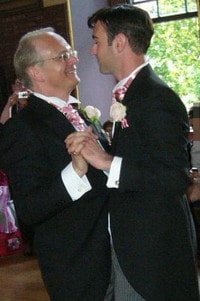 "Pictures of the £80,000 event have emerged, showing Mr Cowell, 50, and New Zealander Dr Lord, 28, dressed in identical morning suits and holding bouquets of pink roses…The couple arrived on May 31 at the 12th century St Bartholomew the Great in the City of London in a horse-drawn carriage. They walked up the aisle to Mendelssohn's march from A Midsummer Night's Dream accompanied by two best men – one for each groom – and two bridesmaids also dressed in blue and pink. The traditional service by rector Martin Dudley was based on the 1662 Book of Common Prayer and opened with the words: 'Dearly beloved, we are gathered together here in the sight of God to join these men in a holy covenant of love and fidelity.' The couple exchanged £8,000 diamond-encrusted wedding bands, each declaring: 'With this ring I thee bind, with my body I thee worship, and with all my worldly goods I thee endow: in the Name of the Father, and of the Son, and of the Holy Ghost. Amen.' The congregation later gathered at the Great Hall of St Bartholomew's Hospital, where Mr Cowell is the chaplain and Mr Lord works as a doctor. The couple cut a giant, seven-tier cake, before their first dance together."
Those are a couple of wealthy priests.
The Reverend Dudley last week said he has no regrets about performing the service: "Amazing flowers, fabulous music, a ceremony both solemn and oddly homely, familiar words reordered and reconfigured, carrying new meanings. Nothing jarred, nothing felt even vaguely inappropriate. New and untried but not wrong."
The gay priests' wedding album: A seven-tier cake, pink bouquets and a waltz [daily mail]