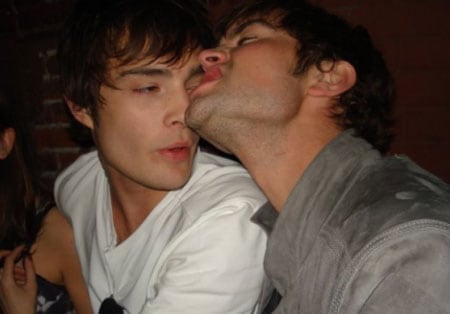 "We've been contacted by entertainment reporters – within days of each other – from the NY Post and the NY Daily News. They both wanted to share a juicy piece of info – too juicy to print, they said. Seems like on-set sources, which the pubs tell us are reliable, have told each paper that Chace Crawford and Gossip Girl co-star and real-life roommate Ed Westwick are in a relationship and not trying to hide it, at least on set. BOTH NY papers tell us that Chace and Ed were recently seen kissing, open-mouthed on set (in Chace's trailer). Very interesting! The Post and Daily News both declined to publish this item because they don't like to 'out' people."
Actually, it's a love triangle with J.C.
UPDATE: "These endless rumors are absolutely untrue".