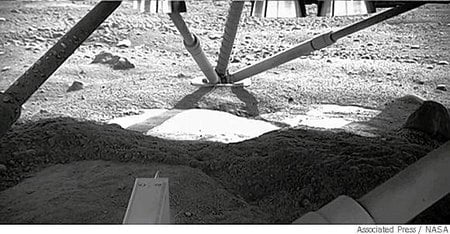 Scientists acknowledged over the weekend that a slick, shiny surface discovered just beneath the Martian lander is likely the ice they have been searching for. The lander's retrorockets likely blew away a few inches of topsoil allowing the gleaming surface below to be visible:
"It's the consensus of all of us that we have found ice. It's shiny and smooth – it's absolutely astounding! It's not impossible that it's something else, but our leading interpretation is ice. We are looking at an extended table of ice."
As a result, the next set of discoveries are now possible: the building blocks of life, as well as some out-of-this-world margaritas.
The lander also left a human-looking 'footprint' in the Martian soil upon reaching out to touch it for the fist time. Check it out, AFTER THE JUMP…
Previously
Mars Orbiter Photographs Phoenix Mars Lander in Descent [tr]