With Gay Pride parade in Jerusalem set for Thursday, Haredim choose this year to avoid public protest.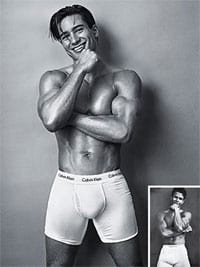 Mario Lopez attempts to recreate a classic.

VV: Why isn't anyone fucking anymore? "The city has shut down all but two bathhouses and every known sex club in Manhattan, as well as citing bars, clubs, and private parties where inspectors find any men-on-men action. The few entrepreneurs still out there complain about apathy and different priorities among younger gay men."

Nomination of homophobic surgeon general James Holsinger may be dead: "Sen. Jim Bunning (R., Ky.), a staunch supporter of surgeon general nominee James W. Holsinger Jr., suggested yesterday that the doctor's quest for the top U.S. medical post is at an end. During a telephone news conference, Bunning said he doubted the nomination would move forward. He cited the Democratic leadership's blockage of several Bush administration-backed judicial appointments. 'They are not moving any positions of consequence,' he said."

May 15: Universal sets release date for Sacha Baron-Cohen comedy about gay Austrian journalist Bruno.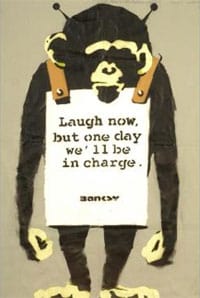 Banksy works exceed expectations at London urban art auctions.

Washington Times columnist >Wes Pruden cavalier over millions of AIDS deaths: "We were all supposed to be dead now, done in by AIDS, the gift of the gays. After that it was SARS, bequeathed to the world by China. Then it was avian flu, which, to be fair to the alarmists, did in fact result in the deaths of millions. The millions were all chickens, true, but chickens have feelings, too. You could ask the folks at PETA."

Rex Wockner chronicles the same-sex marriages in San Diego in photos.

Prince Harry gets in uniform to honor Britain's fallen.

Gay Polo League plays in first tournament ever.

Slate: Gay culture war about to turn chemical. "If the idea of chemically suppressing homosexuality in the womb horrifies you, I have bad news: You won't be in the room when it happens. Parents control medical decisions, and surveys indicate that the vast majority of them would be upset to learn that their child was gay. Already, millions are screening embryos and fetuses to eliminate those of the "wrong" sex. Do you think they won't screen for the 'wrong' sexual orientation, too?"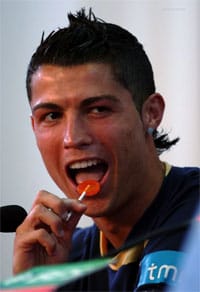 Cristiano Ronaldo and the sweet taste of success.

Keanu Reeves frolics in the surf.

LETTER: The full letter from The Rt Rev Richard Chartres to Rev Martin Dudley following Dudley's marriage of two gay priests.

Jeff Gannon now blogging at the National Press Club.

Germany divided over prospect of gay Lutheran bishop: " Horst Gorski, a senior cleric from Hamburg, is standing for the post of bishop of Schleswig in northern Germany against Gerhard Ulrich, a senior cleric from the Schleswig area. The incumbent bishop is retiring in September. Gorski is a widely respected theologian and he helped set up a centre for gay and lesbian Lutheran pastors. His open homosexuality angers some Lutheran conservatives who argue his election as bishop would leave many Christians with no spiritual home."

Pittsburgh paper: Rural gays isolated, but still stigmatized.