William Quest, the attorney who is battling to have Lawrence King's 14-year-old killer, Brandon McInerney, tried as a juvenile rather than an adult, says he is sensitive to the case because he has a gay sibling: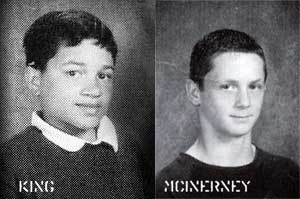 "I can tell The Advocate I've got a young brother who's gay. I saw how difficult it was for him to come out. Now, he came out when he was in college at Berkeley, [so it was] easier than in junior high. But I saw the struggle he went through…and I hope [this is] not perceived as gay bashing because it's not. That's not who I am."
Quest says he'll argue that school officials and teachers knew of friction between the two students and failed to respond adequately and also cites McInerney's troubled family life (drug addiction and domestic violence) as part of the reason for the child's violent behavior.
A coalition of gay groups including including Lambda Legal, the National Center for Lesbian Rights and the Transgender Law Center, the American Civil Liberties Union of Southern California, Equality California, Gay Straight Alliance Network, Los Angeles Gay and Lesbian Center, and the National Gay and Lesbian Task Force, have also urged that McInerney be tried as a juvenile.