Tim Russert's son Luke talks to Matt Lauer…

The executives of the Human Rights Campaign contributed $4,300 to Hillary Clinton's campaign and $0 to Barack Obama. Records show that the other contenders received the following amounts: Dodd — $3,000, Edward — $750, Richardson — $500.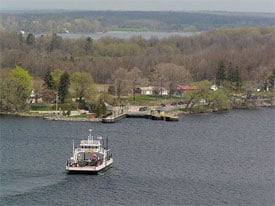 Prince Edward County in Canada a magnet for open-minded thinkers: "Bill [Stearman] says he's seen more homophobia in cities such as Toronto and Belleville. 'It's comfortable here and you don't have to worry. There's a person with a beard and breasts who happily walks down the main street in Picton and nobody cares.' Carlyn Moulton, who co-owns the Oeno Gallery nearby, calls it the 'So-What Factor,' and says people are bonded much more by things other than sexual orientation."

Coldplay's Chris Martin storms out of BBC interview.

Father's Day: Gay couple who adopted three young brothers speaks out: "We are just like you, other than that it's two men instead of a man and a woman. We live life the same way you do. We put our pants on one leg at a time just like you do. We have the same routines and the same requirements to keep our household going."

Matthew McConaughey back doing what he does best.

Join McCain's "team".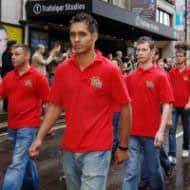 Gay soldiers in Britain's Army will be allowed to march in this year's gay pride parades while in uniform, and not in the red shirts they were forced to wear last year as a replacement: "The Ministry of Defence announced that the Army had this year joined the Royal Navy and RAF in allowing personnel to take part. Last year, soldiers were banned from wearing anything identifying their military links. But a meeting between army officials, Pride organisers and the Equality and Human Rights Commission, resulted in an agreement to scrap the ban in time for this year's parade on July 5."

Nova Scotia town of Truro a changed town after rainbow flag controversy: "The news release, issued Tuesday, says that as a result of discussions between town council and Mr. Thompson, a number of strategies will be undertaken. The town has amended its affirmative action policy to include sexual orientation in the town's employment equity policy, the release says. Truro will also consider amendments to include gender identity in that policy. The release also says Mr. Mills and councillors will take part in an educational program designed by a town staff member and a representative of Rainbow Proud that will deal with homophobia and gender identity."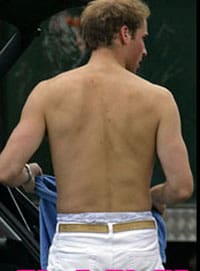 Prince William goes barebacking.

Gay Pride in Budapest, Hungary gets go-ahead after police chief reconsiders: " The new decision by Dr. Gábor Tóth approves of the march and its route as originally suggested by organisers. A meeting between the Pride organisers and police was due to be held this afternoon to renegotiate the march, but this was not required following the publication this morning of the new decision by Dr. Tóth."

Brokeback Mountain composer Gustavo Santoalalla receives BMI Icon of the Year award.

Tori Spelling shows off some big wieners

Controversy in Australia over football coach who was sacked after it was reported that he was bisexual.

Gay website for rural community in Ireland shuttered after lawsuit related to article on local lake which served as meeting place for gay men: "What could make a lake so lethal? Sex, actually. People were reportedly doing it under the nearby trees, in bushes, at and near the waters (in it, too, perhaps). An unusual wet weather activity, you may be thinking. A man objected. Tony Geraghty, a freesheet editor, witnessed this joie-de-vivre and wrote a cover story for The Mayo Echo, captioned 'Castlebar Lake attracts hundreds of perverts'. Threads on castlebar.ie found his article offensive; Mr Geraghty found the threads offensive. One thing led to a legal other and the site closed."