Catholic Archdiocese of St. Paul and Minneapolis forbids liberal Catholic church from holding gay pride prayer service: "St. Joan of Arc Church in Minneapolis has held the event for several years in conjunction with the annual Twin Cities Pride Celebration. The archdiocese is instead suggesting that the church hold a "peace" service Wednesday with no mention of rights for lesbian, gay, bisexual and transgender people. Archdiocese spokesman Dennis McGrath says the gay pride prayer service is inimical to the teachings of the Catholic church."


Global warming expert Hansen: Earth close to the tipping point.

This used to be her playground: Madonna and family go to Yankees game.

Grease RIP: A Rydell High death.

Angels in America playwright Tony Kushner to marry in California: "Mark and I are going to get married in California very soon. Then we're going to be recognized in New York as legally married."

New Bedford, Massachusetts, where two-and-a-half years ago 18-year-old Jacob Robida terrorized a local gay bar with a hatchet and a shotgun, held its first gay pride over the weekend, which attracted 250 people.

Jerusalem gay pride a "go": "The High Court of Justice rejected Monday afternoon a petition filed by right-wing activists Itamar Ben-Gvir and Baruch Marzel against holding a gay pride parade in Jerusalem. As a result, the parade will take place as scheduled this coming Thursday."

Don Imus under fire again for racist comment.

Gay activists in India plan mass gay pride action: "The marchers plan to sing, give speeches and hold candlelit vigils in simultaneous parades in New Delhi, Calcutta and Bangalore on Sunday, said Gautam Bhan, a writer and gay rights activist involved with organizing the marches. While several dozen activists have marched in the eastern city of Calcutta in recent years, these would be the first gay pride parades in New Delhi and Bangalore. Bhan said the activists want to raise awareness of the issues facing the gay community in India."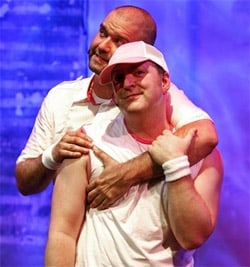 Bash'd: a rap opera that fights back against anti-gay violence, playing in NYC: "With exceedingly bawdy lyrics, two rapping angels, T-Bag (Mr. Craddock) and Feminem (Mr. Cuckow), recount the tragedy of a Canadian couple, Jack and Dillon, who meet in an Edmonton club, fall in love and wed. But when Jack becomes the victim of violence, their idyll collapses."

New Yorker: Is "angry" Keith Olbermann changing TV news?

Russian President Dmitriy Medvedev sued over Moscow Pride: "Organisers of Moscow Gay Pride today applied to the city's Tverskoi District Court accusing Russian President Dmitriy Medvedev of 'inaction on their letter' concerning the staging of the march for tolerance – and respect for the rights of freedoms of homosexual people in Russia – in Alexandrovskiy Sad, part of the Kremlin."

Jodie Foster in tussle with paparazzi.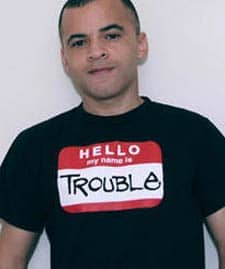 PhD: Memoir of a gay stripper. "The truth was that stripping had long called out to me. It offered something different from my grad school grind of dealing with students, grading papers, and sitting through seemingly endless seminars."

Obama curtails use of altered presidential seal.

James McAvoy on the perils of six packs and protein: "[The abs] were not a special effect. It was the result of a lot of time at the gym — which I hated. I was also trying to take these super protein supplements and they gave me incredible bouts of flatulence which wouldn't have endeared me to the rest of the cast. But I'm back to normal."

Boy George takes his orchid for a walk.

A few notes and photos from the Provincetown International Film Festival.

New York Senate Majority Leader Republican Joe Bruno announces he won't seek reelection: "It also means a seat that had been considered a safe one for Republicans will not necessarily be a sure thing this fall. With all New York lawmakers' two-year terms ending in December, Republicans are defending their narrow 32-30 majority in the Senate, the party's last stronghold in state government. Democrats now hold the governor's post and dominate the Assembly by a 106-42 margin."