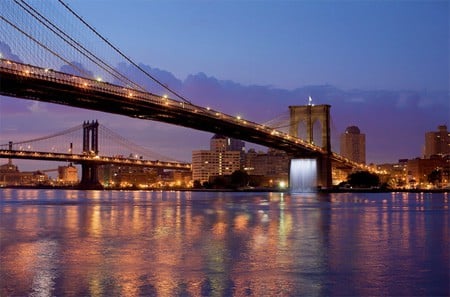 In what's being billed as New York's largest public art project since Christo and Jean-Claude's "The Gates" back in winter of 2005, Danish-Icelandic artist Olafur Eliasson has installed four waterfalls, ranging in height from 90 to 120 that will appear from June 26 to Oct. 13 and run from 7am. to 10pm around New York City. The falls are located at Pier 35, under the Brooklyn Bridge (above), on Governor's Island, and between Piers 4 and 5 on the Brooklyn Heights Promenade. The NYT talked to Eliasson.
The project looks pretty cool in this slide show from the NYT, although the first shots under drab gray skies from an amateur lens feel less than enthralling. I guess I'll have to see it in person and up close.
Clips of two of the waterfalls, AFTER THE JUMP…

Brooklyn Bridge Waterfall from jakedobkin on Vimeo.
Under the Brooklyn Bridge (via Gothamist).
And the one near the Manhattan Bridge, on a test run…
The New York City Waterfalls [official site]