Last week I posted a video of Senator Gordon Smith of Oregon likening persecution of gays to the persecution of Mormons for their beliefs about polygamy. In an interview with The Oregonian, Smith, who has supported a hate-crimes bill that covers attacks against gays, as well as Oregon's civil union law and more rights for domestic partners, apologized.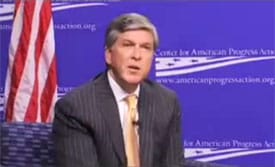 Said Smith: "My remarks referenced a point in time when a few of my ancestors were persecuted for not adhering to that belief. It was an unfortunate reference, and I apologize for making it…If you'd grown up a Mormon, and spent your life trying to get out from the shadow of that legacy — it's an emotional scar that you carry. I meant no offense by sharing that part of my history."
Smith said that he still believes marriage is between a man and a woman.
Watch the clip with Smith's remarks, AFTER THE JUMP…