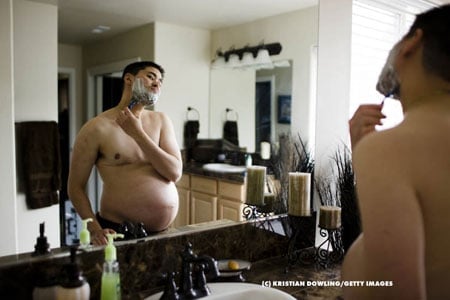 Pregnant transgender man Thomas Beatie is less than a month away from giving birth and a slew of new images of Beatie at home and about have been published by the UK tabloid News of the World.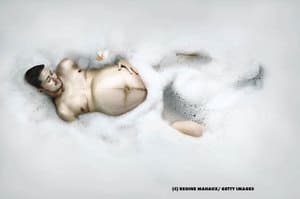 Said Beatie: "I'm 36 weeks now and almost due but I feel fantastic. Every day Nancy and I think about how we just cannot wait to hold our daughter for the first time, to finally get to touch her and see her face. We have her nursery ready and her diapers are lined up in her bedroom. Everything is ready to go. We have even picked a name which we both love—although we're waiting until she is born before we tell anyone. All the people who really know us and love us, our friends and family, have been incredibly supportive. So much so we might even have more children. We will just see what the experience is like with our daughter's arrival first and then give it some thought."
Good Morning America did a segment on the photos of Beatie, but felt the above image of Beatie shaving was a bit much for their viewers.
Watch it, AFTER THE JUMP…