On Friday I posted about Northern Ireland DUP MP Iris Robinson, whose remarks that gays should seek therapy to "turn (them around" were met with protest from activists and other leaders.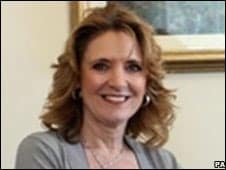 The comments, in which Robinson said "I have a very lovely psychiatrist who works with me in my offices and his Christian background is that he tries to help homosexuals – trying to turn away from what they are engaged in. I'm happy to put any homosexual in touch with this gentleman and I have met people who have turned around and become heterosexuals," have sparked a furor: "John O'Doherty, a member of the South Belfast District Policing Partnership, said he has complained to police. 'People like Mrs Robinson need to learn that their comments have consequences,' he said. This is the second complaint in relation to the Strangford MP's remarks." Police are reportedly investigating.
Robinson's husband has come out in her defense: "There is a legal obligation to ensure that no-one in our society is discriminated against. I have to say that even if there was no legal obligation I would be at the forefront defending anyone who was being discriminated against. And I know my colleague the member for Strangford (Mrs Robinson) would be alongside me in that."
Today, the activist group Outrage! urged gay men to publicly "out" members of Robinson's Democratic Unionist party: "We have always supported the protection of people's privacy who lead a double life, where they are gay but maybe still have a family. However in circumstances where you are a member of a political party which openly espouses homophobia than we think it is entirely justifiable that members of that party be outed."
Robinson's remarks were in response to reports of a brutal gay bashing in the Northern Ireland town of Newtownabbey which took place last week.
Sinn Féin has called on Robinson to resign, saying she's not fit to chair the Assembly health committee.