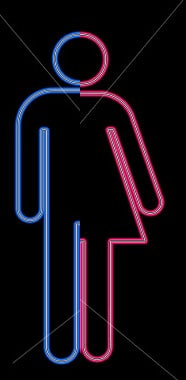 A school in Thailand has created a "transvestite toilet" for its "teen boys who prefer to dress as girls" according to the AP.
"The Kampang School in northeastern Thailand conducted a survey last term that showed more than 200 of the school's 2,600 students considered themselves transgender, said school director Sitisak Sumontha. So, when classes resumed in May, the school unveiled a unisex restroom designated by a human figure split in half — part man in blue and part woman in red. Below it are the words 'Transvestite Toilet.' Three transgender students praised the new restroom as they plucked their eyebrows and applied face powder in front of the mirror outside the stalls."
There seems to be some confusion in the reporting between "transgender" and "transvestite" and perhaps the terms are more blurred in Thailand, and either way, it seems like a hugely disproportionate number of students for either definition. 200 out of 2600?
In any case, the concept isn't that foreign. As you may remember, I posted about a school in Colorado back in February when it announced it would be accommodating an eight-year-old transgender-identified child by providing unisex bathrooms.