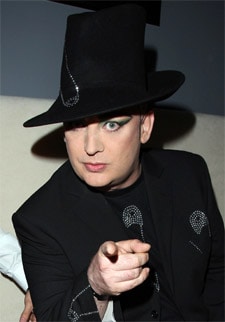 Boy George, who was planning a summer concert tour and a free show for the New York Department of Sanitation, with whom he swept the streets as his punishment for cocaine possession back in 2006, has been denied a visa from the State Dept.
"I'm pretty devastated because I am so excited about this forthcoming tour and having my visa application denied seems unfair after I swept the streets of New York spotless. There are a number of public figures who are openly using drugs and they have no problem with immigration and I have seriously turned my life around and I feel great right now and this is just another reminder of how bad things were. I committed a crime and I happily paid the consequences and I should be allowed to move on and get on with what I do best and that is performing and making people people dance and cry!"
The IHT reports: "His managers said in a statement Monday that the visa denial was not because of his past brush with the law in the U.S. but was because he is awaiting trial in London."
George has also penned a song for Barack Obama, which you can listen to at Paper as well called "Yes, We Can".