Killer of Daytona Beach cross-dresser sentenced to life in prison.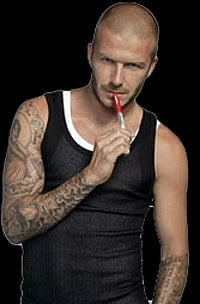 Becks is a Sharpie in new print campaign.

Gay Syrian Jojo Jako Yakob to be deported from Scotland: "It has now emerged that an immigration tribunal has turned down his request to stay in the UK, despite accepting that Yakob is gay and that Syria criminalises and represses homo– sexuality."

He came out shirtless: Matthew McConaughey has a child.

Kenyan bishop threatens to quit over gay marriages: "The Reverend Thomas Kogo, a bishop at the Eldoret ACK Diocese, has issued the quit notice, saying he could not support a church that condones homosexuality. Kogo, who has just returned from a pilgrimage in Israel, said the faithful must uphold the sanctity of the Anglican family. He said those advocating for gay marriages were driven by desire for money and wealth. 'God recognises marriage between man and woman, and there is no way we will accept homosexuality and gay marriages. The Bible is very clear on the matter,' he said."

Boy George speaks to Newsweek about denial of visa: "I am hardly a threat to national security. I am just a performer trying to do his job. I have called America home at different times in my life. I love America, and the American people have always treated me with love and kindness since I went there as a 19-year-old boy with my band Culture Club."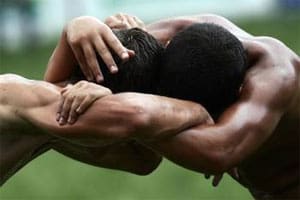 Turkish oil wrestling!

SAS Scandinavian Airlines launches dedicated gay website: "The website is unique in its personalised aspect, providing a 'gay' counterpart to the popular SAS crew tips, offering tips from SAS' own gay crew members on the best offerings in Stockholm and Copenhagen."

Gay and lesbian Christians to protest Pope Benedict's arrival in Sydney: "The protest, calling for equality for gay and lesbian followers, will take place at the Pitt Street Uniting Church this Sunday, coinciding with Pope Benedict XVI's arrival in Sydney. Catholic writer and educator Michael Kelly said gay and lesbian people had been marginalised and condemned by mainstream churches, particularly the Catholic Church. He labelled the 'version of Christianity that is coming to Sydney' as propaganda. 'We call on gay and lesbian Christians … to join us in standing up for the goodness of being gay, and not allow right-wing religious propaganda to silence our faith, hope and love,' he said."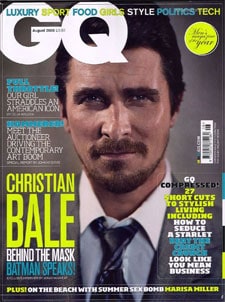 Batman refuses to work with Robin.

Brothers and Sisters' Luke MacFarlane interviewed at the Rome Fiction Festival.

L.A.'s Outfest film festival begins tomorrow. Here's the official site. It's opening with the gay hockey film Breakfast with Scot. Also, here's a new piece from indieWire on the state of queer cinema…

Indian actor walks off talk show after being asked about sexual orientation: "What sort of a question is that Sajid? First you call me for your chat show, and then ask me such stuff!"

American Idol's 'gay stripper' David Hernandez spotted sucking female face in San Diego.

Seattle Opera announces three LGBT nights for upcoming season: "At these designated performances, patrons may pay $100 for discounted main-floor orchestra seating, private intermission receptions (with wine, hors d'oeuvres and desserts) and admission to preshow lectures. The inaugural event — an Aug. 22 presentation of 'Aida' — will be hosted by Seattle Opera trustee JJ McKay and Washington state Sen. Ed Murray. Tickets for the evening are on sale now." (site)