The Huffington Post reports that at least 120 videos featuring controversial pastor John Hagee have been removed from YoutTube: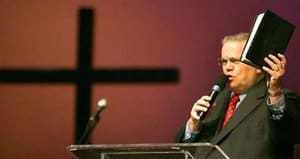 "The timing was, perhaps, more peculiar than the move itself. Clips that had been online for well over a year were now being subjected to 'third-party' copyright infringement claims. And while Hagee had not been in the mainstream press since he and Sen. John McCain ended their official relationship a month prior, Hagee's Christians United for Israel annual summit is just days away, and at least one prominent McCain backer (Sen. Joseph Lieberman) is set to be in attendance."
The clips removed include Hagee's 1990 sermon in which the pastor said Hitler was acting on God's behalf in "hunting" the Jews so that they might establish the state of Israel.
Said Max Blumenthal: "Obviously Hagee's minions orchestrated this move to suppress bad publicity ahead of their July summit. This is a response to the McCain debacle and concern over bad publicity for Lieberman's appearance."
They did, however, miss Talking Points Memo's wrapup, of Hagee statements bashing Catholics and gays, which you can view AFTER THE JUMP…