A gay couple was robbed and assaulted over the weekend while attending Stockholm's Europride festivities: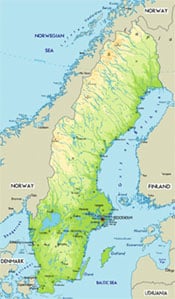 "'Two homosexual men were stopped by three men and were asked directions. The three asked them about their sexuality and then stole their mobile phones and money. One of them was then stabbed in the stomach,' Stockholm police spokesperson Towe Haegg said. The attack late on Sunday 'is considered a hate crime', she said, adding police believed the perpetrators had targeted the couple, aged 25 to 30, because they were gay. No arrests had been made by midday on Monday, she said. The three men, believed to be in their 20s, were suspected of attempted murder, aggravated robbery and duress. One of the festival organisers, Jonah Nylund, told Swedish news agency TT the attack was 'serious'. 'There is a general threat scenario against homosexuals, bisexuals, and transsexuals. They are a vulnerable group and during the festival, there are a lot of them all around and they are visible in Stockholm,' he said."
Organizers expect 17,000 participants in activities surrounding the festival and 100,000 at the annual parade on August 2.
Last December, Swedish politician Fredrick Federley was assaulted in a similar confrontation with young men in central Stockholm.