Congressional hearings on "Don't Ask, Don't Tell" to be held tomorrow.

Christian Bale arrested on assault charges brought by his mother and sister.

A push or a brush: Bale charges trumped up?

BBC Radio1 DJ Kevin Greening, who died last December during a gay bondage session, left £515,575 to his 'life partner' Andrew Lowe and nothing to his mother: "Greening's will instructed that his mother Mary would only receive a payout if she had outlived Mr Lowe at the time of the DJ's death. Even then she would only be entitled to half the money, with the rest going to AIDS charity the Terrence Higgins Trust."

Archbishop of Canterbury Rowan Williams says he's "committed" to Anglican church's stand against living in sin and gay sex: "I do not believe that sex outside marriage is as God purposes it."

Study: Serotonin affects spirituality. "A team of Swedish researchers has found that the presence of a receptor that regulates general serotonin activity in the brain correlates with people's capacity for transcendence, the ability to apprehend phenomena that cannot be explained objectively. Scientists have long suspected that serotonin influences spirituality because drugs known to alter serotonin such as LSD also induce mystical experiences. But now they have proof from brain scans linking the capacity for spirituality with a major biological element."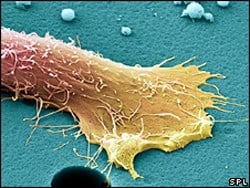 New prostate cancer drug called most significant advance in the field in 70 years: "Abiraterone could potentially treat up to 80% of patients with a deadly form of the disease resistant to currently available chemotherapy, they say. The drug works by blocking the hormones which fuel the cancer. The Institute of Cancer Research hopes a simple pill form will be available in two to three years."

YouTube Superstar Tricia Walsh-Smith loses battle for husband's cash. Judge slams YouTube antics.

Hello Yellow Brickle Road: Elton John finally plays the Green Mountain state. "The show — a celebratory culmination of a U.S. road trip that began in California in 1970 — was a musical milestone for the 61-year-old singer: With Monday's Vermont concert, John has performed in all 50 states. 'I'm thrilled,' he said before the show, graciously accepting Vermont-made gifts. 'I love America. It's taken me 39 years to get to Vermont and it's worth it. It's a glorious night out there. I'm very, very lucky.'"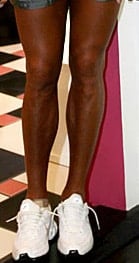 Bet you can't guess whose legs these are.

British activist Peter Tatchell, who was the international grand marshall at last weekend's San Diego Gay Pride and participated in the protest of that city's Manchester Grand Hyatt, criticized U.S. foreign aid to countries with poor human rights records in a speech at the San Diego Pride Human Rights Vigil: "We must urge the US State Department to make foreign aid and trade conditional on the recipient countries agreeing to respect human rights, including the human rights of LGBT people. Tyrannies should not be rewarded: No US aid for anti-gay regimes."

Patrick Swayze on cancer progress: "I'm a miracle, dude. I don't know why."

Human Rights Watch demands release of two HIV/AIDS doctors being held by Iranian authorities: "Human Rights Watch says the authorities have not disclosed why Arash Alaei and Kamyar Alaei were detained last month, or where they are being held. The two brothers have travelled widely outside Iran, including to the US, to take part in conferences on HIV/Aids. They were due to take part in a major meeting in Mexico next month. Arash Alaei was scheduled to give a presentation on some of Iran's innovative HIV programmes, Human Rights Watch says. The brothers are credited with getting the Iranian authorities to tackle the stigma of HIV infection and the disease Aids, in a country where sex, drug abuse and the disease itself are taboo subjects."