Truth Wins Out launches effort to block Focus on the Family founder James Dobson's induction into the Radio Hall of Fame. Wayne Besen: "It is outrageous and insulting that James Dobson would be nominated for the Radio Hall of Fame. We believe that character counts and nominees should have careers based on honesty and integrity – not discrimination, distorting research and outright lying."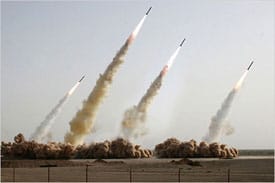 Iran state media Photoshops missile test image to make it seem more impressive.

Massachusetts Supreme Judicial Court rules benefits to gay couples following the 2004 marriage decision can't be applied retroactively.

Spotlight on Jennifer Hudson's album cover.

Following GLAAD's lead in April, Californians Against Hate launches boycott of San Diego's Manchester Grand Hyatt.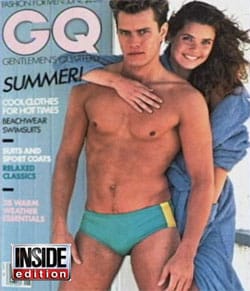 Divorce drama: beefcake GQ cover of Christie Brinkley's husband Peter Cook unearthed from 1981.

California's Kern County rebuffs conservative group, refuses to ban same-sex marriages: " The Campaign for Children and Families hoped the passage of a gay marriage ban in Kern County would embolden other counties to follow suit. But supervisors declined to act on the measure after Bernard Barmann, the county's lawyer, said it would be illegal for the county to adopt its own same-sex marriage ban. The Kern County clerk's office stopped offering all marriage ceremonies on June 15, the day before gay marriage became legal."

What's inside "Just for Men" hair color?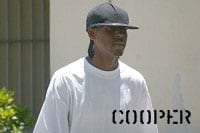 Bermuda man who attacked gay man with a machete gets seven years in prison: "Cooper, 26 – older brother of the murdered Cooper twins – had a history of violent crime and homophobia before he launched the attack on Shawn Nusum, 25, in the early hours of November 15 last year. His Supreme Court trial heard how he had taunted Mr. Nusum, of St. David's on previous occasions over his sexuality, calling him a 'faggot' and similar names. On the night in question, the pair got into a dispute in Club Ovation, Water Street, St. George's, when Cooper taunted Mr. Nusum once again. He later lay in wait for Mr. Nusum, and as he left the premises he hit him about the face with a machete. The victim suffered a fractured nose, jaw and cheekbone. A cut to his left eyebrow has left him unable to raise it, and he will be permanently scarred."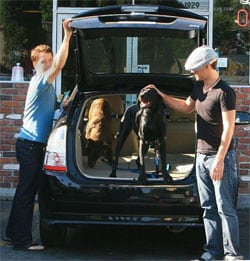 T.R. Knight and Mark Cornelsen take the kids out for a ride.

Michael Jackson arrives in Vegas wearing pyjamas, a dreadlocked wig, a surgeon's mask, a baseball cap and sunglasses.

A Guide to the Philadelphia Gay and Lesbian Film Festival which kicks off tonight.

Michelle Williams planning Heath Ledger film: "The actress – who was left devastated when her former fiance was found dead in his apartment after an accidental drug overdose in January – wants the actor's friends and co-stars to share their stories on him so little Matilda can see her father through their eyes."

Former gay porn model "Lamar" killed in head-on collision following Chicago's black gay pride celebration.

Lesbian adopted by lover into IBM family fights for share of fortune: "Patricia Spado was adopted by Olive Watson, the daughter of Thomas Watson Jr, in 1991 when the pair were both in their 40s and at a time when gay couples were not allowed civil partnerships. They lived together for 14 years but, a year after the adoption, their relationship ended. Miss Spado, now 60, claims the purpose of the adoption was to allow her to qualify as an heir to Miss Watson's inheritance."