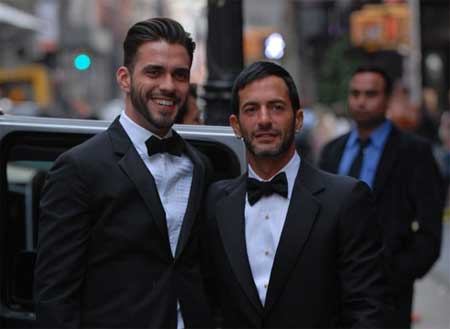 There are dueling reports that Marc Jacobs signed a Civil Solidarity Pact with his boyfriend Lorenzo Martone over the weekend in Paris (on Friday I posted that this might happen) and that he didn't.
Today, Page Six reports that "Jacobs is a newlywed" and signed the pact on Sunday, quoting a source who says, "He's totally excited. He said he's head-over-heels in love with Lorenzo. His life is coming together now."
Fashion Week Daily reported yesterday:
"Turns out the designer is currently in Paris–toiling away at the Louis Vuitton offices, in fact, pre-Ibiza. (Yes, they still close for August in blessed Europe.) 'He's here right now,' said a member of the press office, when we asked where to send flowers…So far, a store manager at the Marc Jacobs Palais Royal boutique in Paris hasn't seen the designer. 'He was not in the Paris store this weekend, but sometimes it happens when he is in town,' she said. As for the marriage rumors? 'I don't know about his private life.' A salesperson at the Marc Jacobs store on Bleecker Street remained equally mum…One man who is always in the know–Davé Cheung of Marc's regular chinois restaurant Davé–seemed shocked by the news. 'I don't know about this,' he said on a break from dinner service. 'We cannot get married in France yet–here, we have not yet passed such a law. In Spain, yes. In San Francisco, yes. But not Paris. To get married here is impossible–unless it is to a lady. They can have a celebration but not a legal marriage.'"
Then there's the other question — if he really wanted the union to have legitimacy in the U.S., why not do it in California?