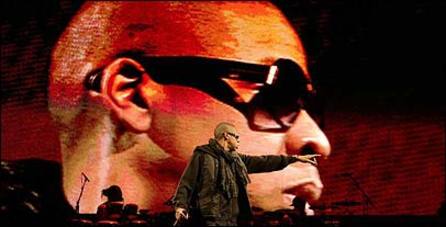 Robbie Daw presents a weekly pop music update here on Towleroad! Robbie runs his own site called Chart Rigger.
Jay-Z headlined England's famed Glastonbury festival on Saturday, a controversial move given the rock-heavy bill the event usually touts. Perhaps no one was more vocal about their disdain for Hova as headliner than Noel Gallagher of Oasis: "If it ain't broke, don't fix it. If you start to break it then people aren't going to go. I'm sorry, but Jay-Z? No chance."
In turn, the rapper and music mogul clearly wowed the crowd with his opening song choice: a cover of "Wonderwall."
On a bit more tame note — well, lately, at least — George Michael brought his 25 Live tour to The Forum in Los Angeles on Wednesday. It was the first time he's played L.A. since 1988.
Just before the final encore, in which he performed "Freedom '90," Michael was surprised by Bo Derek, who walked on stage to give him a birthday cake as his band played "Happy Birthday." The London-born singer is 45.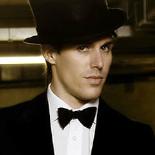 Enough about Jay-Z…what were the reviews like for Sam Sparro's appearance at Glastonbury?

Word on the street has it that Norwegian pop blondie Annie, of "Chewing Gum" fame, has got a new EP out. Towleroad vehemently looks down upon illegal filesharing, but something tells me that if you typed in "Annie" and "EP" into a search engine, you might be taking the first step to finding out more information on this bit of noise.

This Delicate Film We've Made, a live concert DVD containing the last night of Darren Hayes' 2007 tour, will be released from his own Powdered Sugar Productions on July 22.

Creole Lady Marmalade! All three original members of seminal '70s funk-glam trio LaBelle are set to reunite for their first album together since 1976. The group will also perform this Saturday during the Essence Festival — where else — down in ol' New Orleans.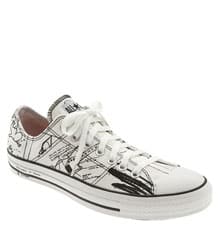 London's Madame Tussauds Wax Museum will unveil a statue of Amy Winehouse later this year: "We are really pleased to be creating Amy; she is a real icon in mondern British music, a continual award winner and an internationally recognized star widely requested by our guests.

So imagine if a bunch of Alanis Morissette fans got together online and did karaoke to try to win free concert tickets…

Did you know you can now purchase Converse sneakers from Nordstrom with writing from Kurt Cobain's journals on them? This seems like something to get up in arms over, but if Courtney Love says it's ok, then… Oh, well. Whatever. Nevermind.

Aerosmith's Steven Tyler finally admits he checked into rehab to recover from more than just foot surgery: "I don't know about (guitarist) Joe (Perry) but I was off and running and I didn't like the me that was me. This was a month ago, so I just put the brakes on and checked into detox and just pulled the plug on all of it."
Where The Light Is, a live CD/DVD from John Mayer recorded at Los Angeles' Nokia Theater.
High School Musical star Vanessa Hudgens' second solo effort, Identified.
R.E.M.'s iTunes-only set, Live: From London.
Love To Make Music To, from L.A.-based electronica producer Daedelus.
New singles from The Faint ("The Geeks Were Right"), LL Cool J ("Baby") and Lee Ann Womack ("Last Call").
Guilt, a new EP from Sheffield indie band The Long Blondes.