Yuengling Beer distributor's driver fired following anti-gay assault on Brad Walsh, photographer boyfriend of fashion designer Christian Siriano.

Vanity Fair takes jab at New Yorker cover.

OK: Justin Timberlake and Britney Spears to reunite.

Eurogames get underway on Thursday in Barcelona: "More than 30,000 tourists are expected to attend the Olympics-style games which could pump 30 million euros (47.6 million US dollars) into the local economy, according to Barcelona gay sports group Panteras Grogues (Yellow Panthers) which is organising the event."

Send Newsom in: SF Mayor obtains city computer codes from imprisoned city computer tech Terry Childs after week-long stand-off: "The first thing I want you to know, Mr. Mayor, is that when you walk out of this room, you will have the computer codes."

Hispanics make up 22% of new HIV cases: " So far, the toll of AIDS in the nation's largest and fastest growing minority population has mostly been overshadowed by the epidemic among blacks and gay white men. Yet in major U.S. cities, as many as one in four gay Hispanic men has HIV, a rate on par with sub-Saharan Africa."

Project Runway winner Christian Siriano discusses his new fashion line…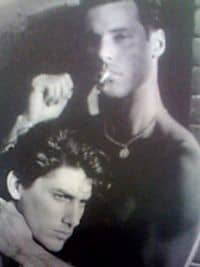 Male model Bruce Hulse recalls his first gay-themed shoot with Herb Ritts: "His request was one I might not normally have accepted, but I knew that Herb would take exquisite and tasteful photographs that would be seen by the world as art. I also didn't want to pigeon-hole myself as being homophobic. I wanted to be receptive to any and all ideas, as long as they involved the right team and the best photographers."

The New Old Gays: Apparently, swish is back.

Rihanna takes a ride into "Disturbia" with David LaChapelle.

Syndicated columnist Robert Novak cited after hitting a pedestrian with his black Corvette in DC. Claims he didn't know he hit anybody but witness says victim was splayed across the front of his car.

35-year-old Swedish serial killer of gay men sentenced to life in prison.

Robert Mapplethorpe remembered by some of his subjects.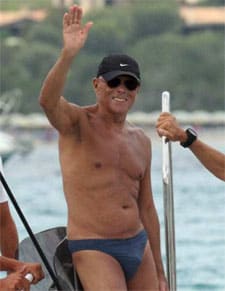 Giorgio Armani is a Speedo guy.

Katy Perry and the media's "kiss" of hypocrisy: "Not only is the media sending a mixed message in heralding Perry, they're undermining any stand they might want to take in support of gays in the future. How can anyone heed their warnings not to disrespect gays when they roll out the red carpet for an artist who has done exactly that? The real point seems to be they'll do anything for an audience."

Car-free zone in Montreal's gay village a huge success: "Even the naysayers, those who were opposed to closing the street, have changed their tune as the terrasses stay packed from Wednesday to Saturday night and merchants are dancing to the tune of ringing cash registers."

The International Herald Tribune goes on a shopping trip in Provincetown but mostly at the Marc Jacobs boutique.

Hartford Courant: 2010 Census must count gay marriages. "Bureau officials should acknowledge the reality that same-sex couples are legally married in the United States — and fix their procedures for counting and describing America's estimated 780,000 same-sex couples and their families. They should certainly stop altering the accurate responses of same-sex couples who describe themselves as married. Decisions about data collection should not be driven by political and value-laden judgments about marriage. They should be grounded in the demographic and legal realities of this nation."