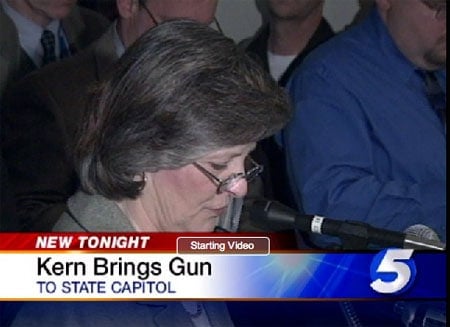 Sally Kern, the Oklahoma representative who is well known for her remarks that homosexuals are a worse threat to America than terrorists, was stopped by security at the state capitol on Wednesday when she tried to enter with a handgun.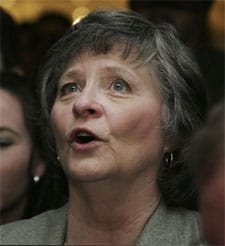 "Rep. Sally Kern, R-Okla. City, never made it past checkpoint, an Oklahoma Highway Patrol spokesman said. The lawmaker was asked to return to her vehicle and secure the weapon, which she did. Kern told Eyewitness News 5 that she merely forgot to leave the weapon behind. She said she got out of her car quickly to catch up with a colleague. The weapon was in her purse, she said, and was detected via an X-ray machine."
It's the second time in two months.
"In early June, troopers said, Kern breached security and entered the Capitol with a weapon. When Kern realized she had the gun, she said, she came down to make troopers aware that she had it. Troopers said there was never a breach of security, however, on Wednesday. Of the June incident, Kern said that her purse was being scanned by X-ray right as she dropped something. As the security attendant helped Kern with that, her purse made it through undetected. She stressed that in both cases it was merely a matter of forgetting that she had the weapon."
Oh, and it was loaded.
Maybe she was just defending herself against a fagwa?