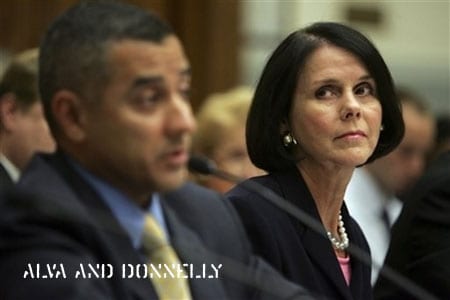 Reports are filtering out about today's hearings before the House Armed Services subcommittee on Military Personnel on the military's "Don't Ask, Don't Tell" policy.
Three former servicemembers testified for the Democrats — Marine Corps Staff Sgt. Eric Alva, retired naval intelligence officer Capt. Joan Darrah, and retired Army Maj. Gen. Vance Coleman. Coleman is straight, Alva and Darrah gay. Elaine Donnelly, president of the Center for Military Readiness, one of two witnesses brought by the Republicans (the other was retired Army Sgt. Maj. Brian Jones) seemed to cause the greatest stir. Below, a clip of Donnelly being questioned by Rep. Patrick Murphy. Donnelly was grilled, chastised, and lambasted, according to The Hill.
Clips of testimony from Subcommittee Chairwoman Susan Davis, Alva, and Darrah,
AFTER THE JUMP…
The Washington Blade reports: "Rep. Patrick Murphy (D-Penn.), a former Army private, said he was "insulted" that Donnelly did not believe that service members were 'less professional' than other workers and could not handle gays among their ranks. He disputed the notion that letting gays serve openly would encourage sexual misconduct in the military. 'We're talking about orientation and not misconduct here,' he said…Donnelly recommended that recruiters ask enlistees about their sexual orientation when they enter service so that they can be removed if they are gay. Donnelly maintained that nothing in the law prevents recruiters from asking questions about sexual orientation. Donnelly said straight service members would be exposed to harassment if gay service members were allowed to serve openly. She frequently cited a 1974 incident in a letter she says she received from Cynthia Yost, a former Army medical corpsman. Yost said a group of black lesbians sexually assaulted her, but she didn't report the incident to keep her record clean."
Chris Johnson at the Human Rights Campaign who liveblogged the event, describes the scene during Donnelly's testimony:
"Elaine Donnelly, president of the Center for Military Readiness is speaking. There is an audible burst of laughter when Donnelly throws in a 'San Francisco left' phrase just for dramatic effect. Another guffaw from the crowd when Donnelly expresses her concern over gay men sharing a 'cramped submarine' with other soldiers….There is on older lady in the room who just turned around to the room brimming with youngsters and issued the warning, 'Show respect while she speaks!' The room keeps laughing at Donnelly's outrageous statements. The older woman is obviously losing this fight. 'They're just disrespectful people!' she hisses."
Incidentally, some are questioning Donnelly's qualifications to testify. That's a shocker.
Eric Alva wrote a piece for the Huffington Post in conjunction with his testimony.
And in related news, Idaho Senator Larry Craig told CNS News that he supported the policy: "Current policy has served us well. I think we ought to sustain it. I see no evidence that it should be repealed." And why wouldn't he? It's worked perfectly well for Craig and his wife.
Clips of testimony from Subcommittee Chairwoman Susan Davis, Alva, and Darrah,
AFTER THE JUMP…
Opening remarks from Subcommittee Chairwoman Susan Davis
Retired Naval intelligence officer Captain Joan E. Darrah and wounded Iraq war veteran Staff Sergeant Eric Alva, USMC.