Thomas Disch, a poet, critic, and author of science fiction, died at his apartment in New York on Friday, July 4th, of an apparent suicide. He was 68.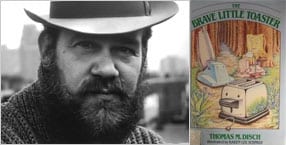 NYT: "His friend Alice K. Turner said Mr. Disch shot himself. She and other friends told how his apartment had been devastated by a fire; then his partner of more than 30 years died; then his home in Barryville, N.Y., was flooded; and finally, he faced eviction after he returned to the apartment. He also suffered from diabetes and sciatica. 'He was simply ground down by the sequence of catastrophes,' his friend Norman Rush, the novelist, said Monday." According to the L.A. Times, "Three of his novels, 'Camp Concentration,' '334' and 'On Wings of Song' were named in "Science Fiction: The 100 Best Novels," a survey by critic David Pringle. Disch's nonfiction work 'The Dreams Our Stuff is Made Of: How Science Fiction Conquered the World' received a Hugo Award in 1999."
The Advocate has posted a LiveJournal entry written 10 days before his death. Disch reads an excerpt at the 1987 NY book fair, AFTER THE JUMP…
R.I.P.