"Elite" HIV wife may hold key to AIDS vaccine: A woman who has never shown symptoms of infection with the AIDS virus may hold the secret to defeating the virus, U.S. researchers said on Tuesday. Infected at least 10 years ago by her husband, the woman is able somehow to naturally control the deadly and incurable virus — even though her husband must take cocktails of strong HIV drugs to control his. She is a so-called 'elite suppressor,' and studies of her immune cells have begun to offer clues to how her body does it, the team at Johns Hopkins University in Baltimore said. 'This is the best evidence to date that elite suppressors can have fully pathogenic virus,' said Dr. Joel Blankson, who led the study."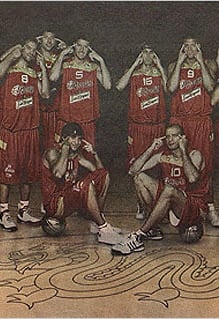 Spanish Olympic basketball team under fire for 'slant-eye' photo.

Amy Winehouse seeking revenge on charts for being dumped by James Bond producers: "I do think they could have waited a bit. If they want a worldwide hit I have them all up here (pointing to her beehive)."

Annie Lennox talks AIDS from the International AIDS Conference in Mexico City: "There have been around 25,000 people who have come to take part in this extraordinary event. A conference like this gives tremendous focus and profile on the issue of HIV/AIDS…There are representatives from all walks of life. HIV is a very complex issue, and it effects people in all kinds of different ways. So to be a representative of those people, whether they're gay and lesbian men and women – whether they're transsexuals, or mothers, or children – whoever it happens to be – it's deeply moving just to take a moment to look at who's here. It's like a microcosm of the world, in actual fact."

McCain forced to remove attack ad with Wayne's World clip. Doesn't think he's gone negative.

Australia Capitol Territory says civil partnerships exceed expectations: "Attorney-General Simon Corbell says 23 gay or lesbian couples have already registered their partnerships."

A psychiatrist who has stepped down as adviser to the politician as well as his job at a Belfast hospital.

Provincetown being re-branded to go after heterosexuals?

Clay Aiken leaves the hospital with his boy.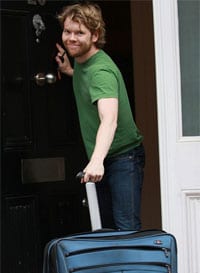 In June I reported that Little Britain creator Matt Lucas and his partner Kevin McGee were seeking a divorce. Well, it looks like they've made up, for the moment.

A chat with Olivia Newton-John.

The NYT visits Graydon's Carter's Waverly Inn: "The reservations system has miniprofiles on clients: the number of times they have eaten at the restaurant, (Mr. Menicheschi, the publisher, supposedly is near the top of the list with more than 200 meals) whether they complained about the food, whether they yelled at a waiter or ever wrote an unflattering word about Mr. Carter. No, not really on the last one. Has anyone been blacklisted? Mr. Carter won't say, but Mr. Varda admits that there is one group. 'B-list stars who call the paparazzi from inside the restaurant,' he said. 'They are not invited back.'"

Anti-gay professor indicted in Israel: "Hillel Weiss, who helped found his nation's religious peace movement, has been indicted on two charges of inciting violence and intimidation after two very crude outbursts, including one about the abominable gays…"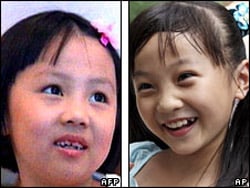 The little girl who sang at the Beijing Olympics Opening Ceremonies was a fake. Music designer Chen: "The reason why little Yang was not chosen to appear was because we wanted to project the right image, we were thinking about what was best for the nation. The reason was for the national interest. The child on camera should be flawless in image, internal feelings, and expression."

Madonna on track to adopt a baby girl from Malawi.

Study shows sexual abuse of male soldiers common in Liberia: "More than 40% of female combatants said they had experienced sexual violence, compared with less than 10% in the general population. Surprisingly, 33% of male combatants said they had been similarly abused. 'Mental health policies need to address males as victims of sexual violence,' Lawry says."

Ready for Mantyhose?