Twenty-six-year-old Santiago Perez has been arrested and charged with the murder and robbery of 41-year-old Afzal Muhammad in a wooded part of Brooklyn's Prospect Park late last month, according to the Brooklyn Eagle: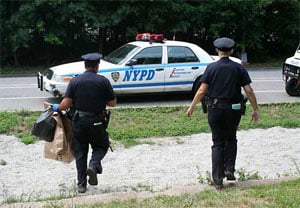 "Police and emergency responders at first did not consider the case a homicide, though subsequent investigations led police to begin a search for suspects with a focusing of efforts on Lookout Hill. It is known as a gay 'cruising' spot—where men meet in the relative anonymity provided by the thick wooded overgrowth provided by the surrounding trees. Nearly three weeks after the incident, detectives from the 78th Precinct Squad developed information that led to the eventual arrest on Tuesday afternoon of Santiago Perez, 26, charging him with murder and robbery in connection with Afzal's killing. One source with knowledge of the investigation said police believed Perez, described as a homeless man, posed as a male prostitute in order to lure Afzal into the wooded thicket. Once out of sight, Afzal was to have been hit in the back of the head with some type of heavy, solid object, causing the severe blunt trauma that the City Medical Examiner had placed as the cause of death in the official report."
The Brooklyn Paper reports that Perez' lawyer claims a confession offered by his client while in custody was the result of police threats of torture.
(image brooklyn paper)