Today, The Catholic League's Bill Donohue, the mouthpiece of a right wing religious group who spends most of his time using his office to attack free speech, progressives, and gays, took it upon himself to call out the DNC for the diverse range of media it has chosen to credential at the Democratic National Convention in Denver.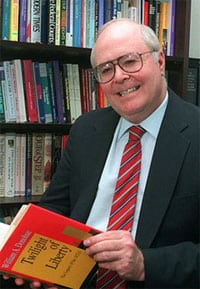 Donohue called on the Convention CEO Leah Daughtry to "nix" Towleroad and feminist blog Bitch Ph.D.'s media credentials at next week's convention. According to Donohue, we are the "most offensive" of the more than 120 blogs offered credentials.
Just today, Daughtry touted this year's delegation as the most diverse Convention in Party History in a press release: "Opening the door of the political process to people who have never taken part in the past has been the bedrock of our planning for this Convention since we arrived in Denver one year ago…it's only fitting that our delegates represent that same core value and Barack Obama's unparalleled ability to bring more new people in to the electoral process than ever before."
Bill Donohue's Catholic League, unfortunately, is a right wing radical religious group masked as an advocate with no business meddling in the machinations of U.S. politics. Most Americans believe that the separation of church and state makes America strong.
Once again using the shameful tactic long used by right wing groups to link LGBT subject matter solely with sex, Donohue states: "Towleroad describes itself as 'A Site with Homosexual Tendencies.' Accordingly, it shows men in jock straps and underwear. It also has a post on Pope Benedict XVI that takes him to task for wearing a cape with ermine. Some of those who commented on this described the pope in a vile and profane way."
Our recent reference to the Pope pointed out the hypocrisy of the Catholic leader's wearing of fur, something that hasn't been done since the 60's.
In contrast, the Pope has deemed homosexuality an "intrinsic moral evil" and as recently as New Year's Day ranked same-sex marriage with nuclear arms proliferation, environmental pollution, economic inequality, abortion, and birth control as threats to world peace.
Yet we would never suggest that Catholics not be able to attend the Convention.
If Donohue is so focused on sex, his time would be better focused on healing the epidemic of sexual abuse against children by clergy in the Catholic church, and considering the facts on the use of condoms, which the Church has said have no effect on the prevention of AIDS, rather than attempting to influence American politics by limiting the Democratic ideals of free speech, inclusion and tolerance.
For some background on Donohue, check out this post at Media Matters.
Thanks to Pam's House Blend, Good as You, Joe.MyGod, Queerty, The Carpetbagger Report and others for your support.