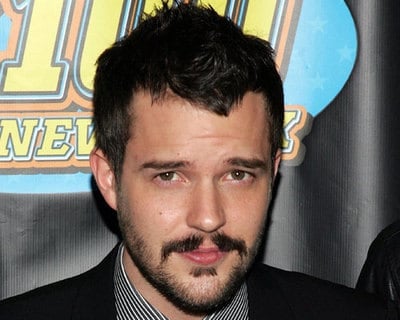 Robbie Daw presents a weekly pop music update here on Towleroad! Robbie runs his own site called Chart Rigger.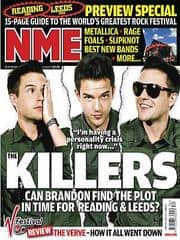 Given that Andy's in Denver covering the Democratic National Convention, this seemed like the right week to take a bit of a political turn with the music column. But don't worry—I ain't about to start preaching.
Instead, I wanted to focus on part of an interview British rock journal NME ran last week with Killers' frontman Brandon Flowers. It's an article that likely won't get much press on this side of the pond. But it's one that's bound to raise an eyebrow or two.
First off, I like The Killers. Over the past year, I've mentioned them numerous times in my Towleroad music column, most recently talking about their upcoming third album—due out in November—which features Madonna collaborator Stuart Price on knob-twiddling duties.
It was four-and-a-half years ago when I first caught the Las Vegas-based band open for Morrissey here in L.A. at the Wiltern. It was just before Hot Fuss came out, and that being the year of the tenth anniversary of Kurt Cobain's death, on some small level I felt like I was hopping on an up-and-coming band's wave before it crested and crashed, the way I never got to with Nirvana.
Between L.A., Long Beach, Cleveland and Austin, I caught The Killers live half a dozen times in the years following that first show. When I started Chart Rigger in 2005, a large number of that first year's posts were  devoted to a bit of fanboy crushing on Brandon Flowers.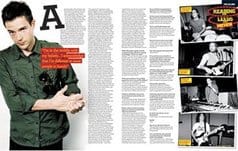 That said, my music blogger pal Paul in the U.K. mailed me the latest copy of NME, on which Flowers adorns the cover, last week. When it arrived, I tore open the package, laid back on my bed and began reading.
When I finished, I couldn't help wondering about what we truly expect of our idols and our icons. We read magazines, watch their movies, listen to their music, buy their books—all in an effort to get some inside glimpse into what they're really like, how they really feel and think.
But are we pleased when we hear Madonna comparing John McCain to Hitler? Did we really need to read Chris Ciccone reminiscing about toweling off his sister's naked body? Should the Dixie Chicks just  shut up and sing?
And does it really matter that eyeliner-happy, mischeviously ambigious devout Mormon Brandon Flowers might lean a little to "the middle"? Who knows—maybe more of us lean toward the middle than we care to admit.
Anyway, after the jump is an excerpt from James McMahon's interview with Flowers in the August 23, 2008 issue of NME.
NME: Can I ask you some personal questions?
BRANDON FLOWERS: (Pause) OK…
NME: It's an election year in the U.S., so it seems appropriate to ask you about the time you said you were "sympathetic to George Bush."
BF: Yeah. I said that, but I don't think that now. I'm in the middle with my beliefs, like everyone else.
NME: I think it's quite rare to meet someone in a rock 'n' roll band who says their politics are "in the middle."
BF: Well, I acknowledge that I'm different to people in most bands. In what way? I don't want to talk about it. I think that's enough of a statement in itself.
NME: I leave that alone then…
BF: (Brandon is oblivious to NME's statement) I think a lot of people in bands do it because they're artists and they're supposed to be on the left.
NME: I think the argument is that rock 'n' roll is supposed to be counter-culture and so it's rare for people within it to have conservative views.
BF: Yeah, I understand it all, but I am who I am and I've spent a lot of time trying to work out who I am and I always come back to the middle. I know as a singer in a band I should veer towards the left, but I don't.
NME: So which way will you vote in the election?
BF: I don't know. It could go both ways.
NME: Really?
BF: Yes.
NME: How do you feel about Obama?
BF: (Pause) I don't think people want to hear The Killers talk about this stuff…
NME: I do. In an election year and with you being American, I think this stuff is unavoidable.
BF: I'm excited about him…I don't know. I think too many people jump on the train and I don't want to be one of those people. I like his ideas. I like the idea of what he represents. In a lot of ways.
NME: How do you feel about McCain?
BF: (Long pause) Everyone has good and bad points about them.
*****
"Do you think it's weird that I'm down the middle?" asks Brandon loudly in the direction of his PR. She looks dumbstruck. I'm baffled by his sudden outburst. Brandon repeats the question. "In my politics? Do you think it's weird that I'm down the middle?"
Minutes later, in the kitchen, The Killers' manager is wagging his finger at Brandon Flowers and forcibly reminding him—and anyone else within earshot—that "you don't ever talk about politics."